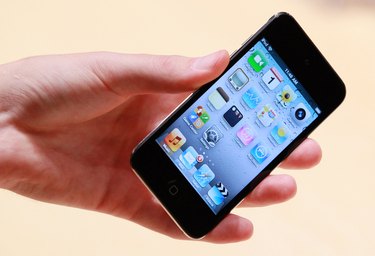 The iPhone has a built-in password security feature that prevents others from accessing personal information by prompting a password before unlocking the device. You can you also increase your protection by creating secure folders on your iPhone. Whether you are trying to hide documents or photos, a secure folder can only be created by using a third-party application from the App Store.
Step 1
Download PicVault. This application securely stores your private iPhone photos by creating a folder and locking the folder once you exit the application. To prevent others from accessing the folder the application has you create a PIN to lock the folder. The app is priced at $2.99.
Step 2
Download Secure Folder. Secure Folder is a $4.99 security application that supports pictures, video, documents, zip files and music. It allows you to create subfolders for better organization. You can send your documents to the iPhone using your Internet browser or ftp and create a password to lock the folder. Secure Folder allows you to e-mail files from your secure folder to others and rename files from your phone.
Step 3
Download iHd Secure File Storage/Viewer. As the least expensive app, iHd Secure File Storage/Viewer locks your music, pictures and documents in a folder and can be uploaded from your computer as long as it is on the same Wi-Fi network. As of 2010 the app costs 99-cents.