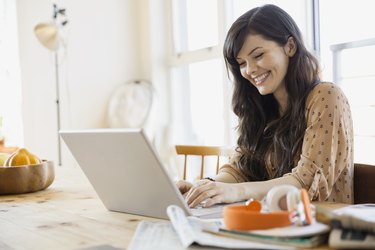 The Microsoft Office suite is a set of programs for common productivity tasks, including a word processing program, a spreadsheet tool, presentation software, an email program and others. Often abbreviated as the MS Office suite, it's among the most popular software packages in the world, though it does face competition from other commercial products, including some from Apple and Google and from open source packages such as LibreOffice. Parts of the Microsoft suite of programs are available both for use in a web browser and local use on a computer.
What Is Microsoft Office Suite?
Microsoft Office is the collective name for Microsoft's set of home and business productivity software. The MS suite of programs includes Microsoft Word, a word processing tool; Microsoft Excel, a spreadsheet program; Microsoft PowerPoint, used for creating interactive presentations; Microsoft Outlook, used for email and calendar management; Microsoft Access, a database management program; and Microsoft OneNote, a note-taking application.
Microsoft Office programs have become the de facto standard for many of the categories of programs it includes, especially word processing and spreadsheet use.
Buying or Subscribing
Access to Microsoft Office is normally bought as a single package, rather than through separate program purchases. Customers can either buy the Microsoft Office suite for use locally on a computer or subscribe on a monthly or annual basis to use the Office 365 cloud-based system, accessible through a local program or a Web browser.
The latest versions of Microsoft Office allow multiple users to edit the same documents and other files at once, enabling easier collaboration between coworkers.
Microsoft Office Suite Versions
The latest stand-alone version of Microsoft Office is Office 2016. Newer versions of Microsoft Office software can normally open files created in older versions and save files in formats accessible by older versions, though some formatting and other settings can be lost when working with multiple versions.
Microsoft Office is available for the Microsoft Windows and Apple macOS operating systems, and some of the Office suite is available for phones and tablets running Google's Android operating system, Microsoft's Windows 10 Mobile system and Apple's iOS.
Alternatives to Microsoft Office
Microsoft Office isn't the only office suite available. Competing products include Google's cloud-based suite of office software, available for consumers through Google Drive and for commercial use through the company's G Suite offering.
Apple also offers its own office suite called iWork, including the Pages word processor, Numbers spreadsheet and Keynote presentation tool. It's available for use on a single computer or through the company's iCloud Web environment.
A free and open source office suite called LibreOffice is also available for operating systems including Windows, macOS and Linux.