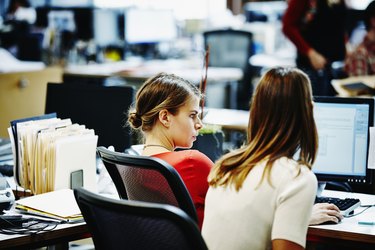 Microsoft Office is a popular set of software programs from Microsoft that includes a word processor, a spreadsheet tool, a database program, an email utility and other productivity software commonly used in modern offices. You can either purchase a copy of MS Office to use on your computer or sign up for a subscription to Microsoft's cloud-based version of Office. A variety of commercial and free alternatives to MS Office and its component programs are available from other vendors.
What Is Microsoft Office?
Microsoft Office is a set of productivity programs usually sold together as a single package. You can either purchase a copy of Office for use on a computer or sign up for the cloud-based Office 365 subscription service, which includes access to regularly updated desktop and browser-accessible versions of the software suite.
Components of Microsoft Office include Microsoft Word, a popular word processing tool; Microsoft Excel, a program used for creating and editing spreadsheets; Microsoft PowerPoint, used for creating and showing interactive presentations; Microsoft Outlook, used for managing email and calendars; Microsoft Access, used for maintaining databases; and Microsoft OneNote, used for taking notes at home, school or work.
Where MS Office Runs
Microsoft Office desktop versions are available for computers running Microsoft Windows or Apple macOS, and the cloud-based features of Office 365 are accessible from any computer running a modern web browser.
Some components of MS Office are also available for phones and tablets running Google's Android operating system, Apple's iOS system or Microsoft's Windows 10 Mobile operating system.
How It's Used
Microsoft Office is the de facto standard for many applications, especially word processing and spreadsheet work. Many employers require job applicants to have knowledge of MS Office and how to use it, and companies and individuals often expect people they do business with to be able to open and edit Microsoft Office documents. MS Office tools usually include support for file formats from previous versions of the software.
Recent versions of Office include support for collaborating with multiple people who can edit the same file at the same time.
Microsoft Office Alternatives
Microsoft Office isn't the only office productivity suite of software available. Google offers its own office suite including word processing, spreadsheet and presentation software through its consumer-facing Google Drive product and for businesses through its paid G Suite offering. The company also offers email and calendar service.
Additionally, Apple offers an office suite known as iWork, which including the Pages word processor, Numbers spreadsheet tool and Keynote presentation program. The free and open-source LibreOffice project includes alternatives to Word, Excel, Access and PowerPoint available for Windows, macOS and Linux.
Most competing products include some support for MS Office file formats, although compatibility isn't always perfect.