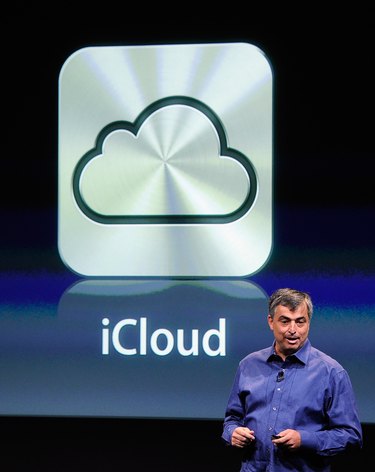 You can use iCloud to push the Notes you create on your iPhone to the iCloud folder in Outlook on your PC so that you can use your computer to access the ideas you jot down on the go. Though you can transfer them manually using iTunes, iCloud is able to instantaneously -- and wirelessly -- synchronize the Notes created within Outlook. To simultaneously sync Notes created or edited on your computer to all iCloud-enabled devices, you will need to use iCloud's Web interface in your PC's browser.
Sync Your Current Outlook Notes with Your iPhone
Step 1
Download and install the latest version of iTunes if you are not already using it (see link in Resources).
Step 2
Connect your iPhone to your computer using a USB cable and allow iTunes to launch automatically.
Step 3
Select your iPhone from the list of available devices and then select "Apply." This will automatically synchronize any Notes you have already created using Outlook to your phone.
Step 4
Select the "Eject" icon, which looks like two horizontal lines with a triangle, to safely remove your iPhone from your computer.
Set Up iCloud
Step 1
Navigate your iPhone to its Home screen. Launch "Settings" and tap "iCloud."
Step 2
Sign in with your Apple ID and password. Toggle the "Notes" slider to "On."
Step 3
Toggle the "Mail" slider to "On." If you have not yet created an @icloud.com email address, follow the on-screen prompts to do so. This is required in order to synchronize Notes since they interact with the email client -- Outlook, in this case -- on your PC.
Step 4
Download and install Apple's iCloud Control Panel for Windows on your computer (see link in Resources).
Step 5
Launch the newly installed program from the Start screen if it doesn't automatically launch after installation. Enter your Apple ID and password when prompted.
Step 6
Ensure "Mail, Contacts, Calendars & Tasks" is checked in the list of available iCloud services on the next screen. This will automatically create a separate mailbox for your @iCloud.com email address in Outlook.
Step 7
Close the iCloud Control Panel and launch Outlook.
Step 8
Click the "+" sign next to your @icloud.com email inbox in the left navigational pane to expand its folder. Select "Notes" to access all notes stored on your iPhone.
Create New Notes on Your PC
Step 1
Launch your PC's browser and navigate to the iCloud Web Interface (see link in Resources).
Step 2
Select "Notes." You will see a list of all synchronized Notes on your iCloud-enabled devices -- click one to edit or view.
Step 3
Click the "+" icon to create a new Note. New Notes and changes will automatically be saved and simultaneously synchronized to all iCloud-enabled devices -- including your @icloud.com email folder stored in Outlook.