Living a screen-free life is pretty much impossible, but a new pair of magical glasses could get you pretty close. IRL Glasses are sunglasses that ensure you avoid screens by completely blocking them from your sight.
The glasses literally block out most screens when you look at them. So, you're in control over when you want to be screen-free—whether you're walking down the street and want to avoid advertisements, or you need a little help staying off your device for a bit. (They don't currently block out smartphones though, which is a bummer)
Inspired by the 1988 movie, They Live, where a magical pair of glasses blocks ads, they're black with the IRL logo printed in white on the sides. They aren't the most attractive glasses you'll ever own, but they're also not the worst.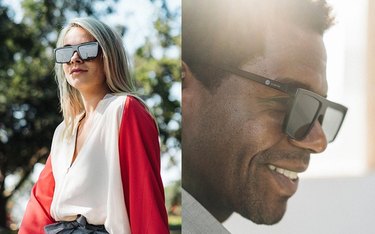 "IRL Glasses block LCD/LED screens through horizontal polarized optics ...," according to the Kickstarter. "By flattening and rotating the polarized lens 90 degrees, light emitted by LCD/LED screens is blocked, making it look like the TV or computer in front of you is off."
Created by Ivan Cash, the glasses are currently being backed on Kickstarter and have already far surpassed their goal. To get in on the action, head over to Kickstarter to pledge at least $49 to get your own pair. Shipping is scheduled for December.