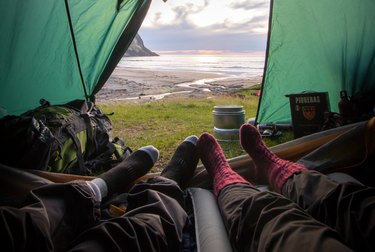 Camping is the perfect escape from busy life. But before you throw on your flannel and invest in copious amounts of firewood, you gotta book the campsite, and that isn't always easy.
Humans love camping, and that means popular campgrounds are often sold out. Campnab is a site that helps you nab reservations when there seemingly aren't any reservations to nab.
Start by typing in the campground or park you want to book and choose your arrival date and the number of nights you want to stay. Enter your phone number so Campnab can notify you when your requested campsite becomes available when someone cancels.
You'll be sent a login code, which will take you to a page where you can choose to pay per use, pay monthly, or pay annually for the serious campers. Select the option that best suits your needs: Good ($10), scans every 60 minutes for four months; Better ($15), scans every 20 minutes for six months; and Awesome ($20), scans every five minutes for a year.
If your campground becomes available, you'll receive a notification. You'll then need to book it on your own, which will be the perfect time to put that flannel on.
There's no guarantee of the service, it just depends on whether or not a cancelation comes up. But if you do receive a notification, you should book it asap before someone else nabs it.