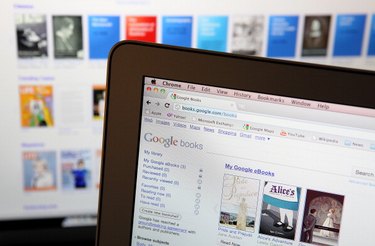 The Google Book Store is an online eBook store that allows you to purchase eBooks for use with a number of devices. From your Google Books account, you can convert and save your Google Books in PDF format for storage and use on devices other than your computer. This can be done in a few simple steps.
Step 1
Open your computer's Web browser and navigate to the Google Books website. Click the "Sign In" button in the upper right-hand corner of the page, fill in your Google Books account email address and password and click the "Sign In" button.
Step 2
Click the "My Library" link to view the Google Books in your library. Click on the Google Book you wish to convert into PDF format to view an overview of that book.
Step 3
Click the "Read on your device" option beneath the "Read now" button. On the "Read on your device" page, scroll down to the "eReaders and other devices" section and click the "Download PDF" button.
Step 4
Type the characters that appear in the CAPTCHA box in the space provided and click the submit button. The PDF file for your Google Book will now be downloaded and saved to the default download directory on the computer.