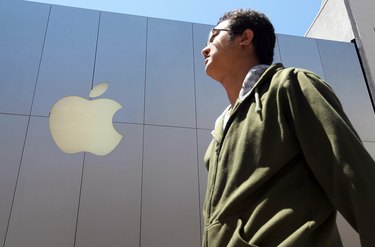 Apple's popularity and profits have skyrocketed with the iPhone, iPad and iPod. The company has found success in making electronic devices highly portable and highly useful for doing everything from making voice and video calls to surfing the Web to reading books. Apple's free iBooks app is available for the iPhone, iPad and iPod touch, and gives you instant access to books available through the iBookstore as well as other sources like Google Books -- as long as they are available in the ePub digital file type. You can easily add Google Books to iBooks in just a matter of moments using Apple's iTunes software.
Step 1
Launch Google Books at books.google.com. Click "Go to the Google ebookstore now" to access the digital books. Select a book from within the store and save it to your computer.
Step 2
Connect your iPad, iPhone or iPod touch to your computer with the supplied USB cord.
Step 3
Launch iTunes. Check that you are running at least iTunes version 9.1. Click "History" in the main toolbar, then "Check for Updates." A new window will appear letting you know if there is a new version of the software available. If necessary, click to download.
Step 4
Click "Books" under Library in the left side column of iTunes. If you do not see Books as an option, you can select it under your preferences. If you are on a Mac, choose "Preferences" from the toolbar, or if you are on a PC, choose "Edit" then "Preferences." Check the box next to Books under Sources. Click "Ok" to finish.
Step 5
Drag and drop the Google book from where you have it stored on your computer to the Books folder on iTunes.
Step 6
Sync your Apple device with iTunes. Click "File" and sync. The Google book will appear on your shelf in iBooks.