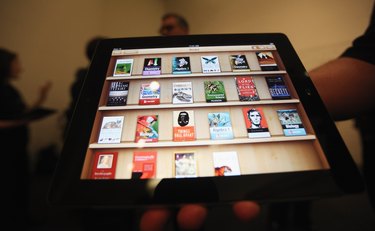 Although you can purchase books from the Apple iBookstore on a computer, the iBooks application is only available on Apple portable devices and does not have a desktop version. The books sold at the iBookstore are in the common ePub format, which can be read by a variety of desktop applications. To read the books on the computer, first transfer the book files stored on your iPad or iPhone to your PC if necessary.
Syncing iBooks to PC
Syncing your iPad or iPhone with the right options selected places a copy of the book file on your PC. To do this, connect your iPad or iPhone to your computer using the USB sync cable. Open iTunes and click on the button marked "iPad" or "iPhone," taking care not to click on the upward arrow, which will disconnect your device. Click on "Books" and check the box next to "Sync Books." If you don't want all the books from your device to also be on your PC, switch the setting from "All books" to "Selected books." Click on "Sync" at the bottom of the screen to get iBooks for Windows on your PC.
Locating the File
Wait until the iBooks Windows sync is complete and then click "Done" at the top of the screen to return to the regular iTunes menus. Change your library setting using the drop-down menu at the left of the screen to "Books" and then select "Books" from the options in the middle of the top of the screen. Right click on the icon of the book you want to read on your computer and select "Show in Windows Explorer." When Windows Explorer opens, you can either make a note of the location of the book file or copy it to a more convenient or memorable location. Don't move the file from its original location as this may cause problems with your iTunes library.
Viewing the Book
Noting the location of the file, open it using a third-party desktop reader application. You can open the file using any reader application that is compatible with the ePub format. Popular choices include Adobe Digital Editions, Calibre and FB Reader, although most desktop reader applications should work with ePub.
Limitations of iBooks
Depending on your choice of e-reader desktop software, you may have problems opening Windows iBook files that have Digital Rights Management protection applied. Numerous third-party applications claim to be able to remove this protection. However, doing so may breach copyright or other laws depending on the jurisdiction in which you live. Some iBookstore titles created using Apple's Author Tool are in a format called IBA. Although this format is based on ePub, it is set up in a way that means you can only view it through Apple's iBooks application and not third-party software.