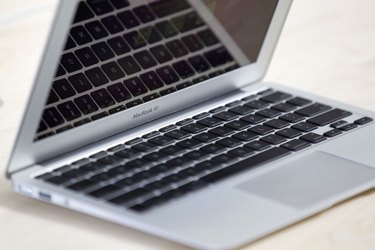 Apple's line of Mac computers come with the OS X operating system, which does not include basic Windows applications such as Microsoft Office. Apple's word processor is called Pages and comes with the Mac, but you must purchase iWork to use it. iWork also includes Numbers, which is Apple's equivalent of Excel, and Keynote, which is comparable to PowerPoint. iWork applications allow you to export your documents to Windows format and open Windows formatted files, such as Word documents, on your Mac. Microsoft Office is also available for Mac, in which case you can open any Office document format. If you haven't bought iWork or Microsoft Office for Mac, you can use Apple's TextEdit application or download a free office software package such as OpenOffice.
Step 1
Download a copy of OpenOffice from its website (see Resources) if you have not purchased iWork or Microsoft Office for Mac. After the download has completed, drag the OpenOffice icon into your "Applications" folder to install. You can also open the document using TextEdit. However, this native program does not recognize most styles and formatting. TextEdit is located in your "Applications" folder
Step 2
Locate the Microsoft Word or Office document you want to open. Hold the "Control" key and click the file to access the options menu.
Step 3
Select "Open With" from the options menu. This gives you a choice between the available applications you can use to open your document. Click Pages, Microsoft Word, OpenOffice or TextEdit to open the document.