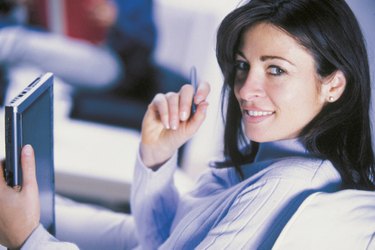 The iPad is a touch screen-controlled tablet device designed by Apple that has a host of e-book reading applications available through the online App Store. You can also view digital comic books on the iPad if you install a reader application that's compatible with your digital comic book files. CBR files are archives of sequentially numbered images stored inside a RAR compression file, with each image representing a page or panel of a comic book. Various iPad comic book reader applications are available that are compatible with CBR files.
Step 1
Launch the App Store application on the iPad by tapping its icon on the home screen. Press the "Search" button, and search for a CBR-compatible comic book reader application such as Stanza, iComic Viewer or Comic Zeal.
Step 2
Tap the application's entry in the search results to open its listing page. Press the button displaying the application's price to download and install it on the iPad. Press the button a second time to confirm its download.
Step 3
Download and install the latest version of iTunes on your computer. If you already have iTunes installed, ensure it's fully updated by clicking the "Help" menu at the top of the screen and selecting "Check for Updates." Launch iTunes once its latest version has been installed by clicking its icon on the desktop.
Step 4
Connect the iPad to the computer using its USB cable. ITunes will detect the connected iPad and add it to the "Devices" list in its left-hand column.
Step 5
Select the iPad from the "Devices" list in iTunes, and open the "Apps" tab in the main iTunes window. Scroll down to the "File Sharing" section, and select your comic book reader application from the "Apps" list.
Step 6
Drag and drop your CBR files from the computer into the "Documents" box in the iTunes "Apps" tab. The comic book files will be automatically synced to the selected comic book reader application. Disconnect the iPad once the file transfer is complete, and you can read the CBR files through the associated comic book reader application.