The iPhone is a range of smartphones designed and built by Apple. You can download and run software applications, called "apps" for short, on your iPhone to expand its functionality. These apps include the ability to create, edit and save a variety of different computer files, including word processing documents, images, audio and video. By syncing the iPhone with the iTunes multimedia management software, you can export and view these files on your PC.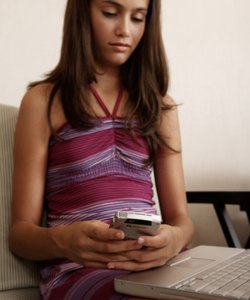 Step
Download and install the latest version of iTunes onto your computer. Follow the installation instructions detailed on the download site, then launch iTunes on the PC once the install has completed (see Resources).
Step
Connect the iPhone to the PC using its USB cable. ITunes detects the iPhone and adds it to the "Devices" list in the left-hand column.
Step
Select the iPhone in the iTunes "Devices" list and click the "Apps" tab in the main window. Click the "Sync" button in the lower-right corner to ensure that the iPhone and iTunes are fully synchronized.
Step
Scroll down to the "Apps" box in the "File Sharing" section and select the application that's associated with the files you want to view on the PC. A list of files currently saved to that application is displayed in the "Documents" box to the right.
Step
Drag and drop the files from the "Documents" box into a folder on your PC. You can now open the iPhone's files and view them on the PC.