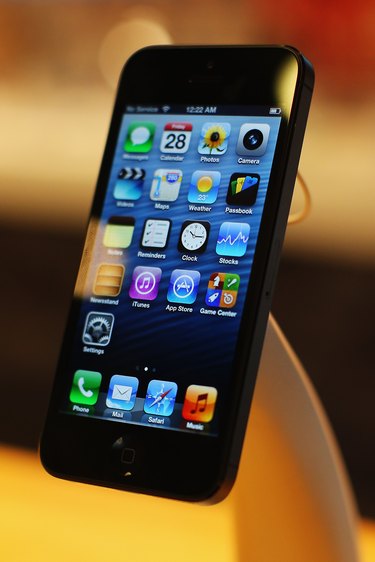 While using iTunes to back up your iPhone is generally a simple process, it is not a practical solution if you are away from your computer and need to copy your phone's files to another machine. It is possible to back up files and apps on your iPhone without jailbreaking the device or purchasing software. This is helpful if you are on a business trip and your laptop malfunctions, preventing access to iTunes.
Disabling Autosync
Before you can back up your iPhone on a computer that does not belong to you, you'll need to make sure that the computer does not start iTunes automatically when you connect an iPhone to it. After opening iTunes, choose "Edit" from the program menu and select "Preferences" from the drop-down menu. In the "Devices" tab, make sure that the box next to "Prevent iPods, iPhones, and iPads from syncing automatically" is checked. Connect your iPhone to the computer. If iTunes opens when you connect the device, select the iPhone "Summary" tab from within the software. Uncheck "Automatically sync when this iPhone is connected" in the "Options" section. You also need to check "Manually manage music and videos" in the same section. Close iTunes so you can install other software to manage and back up your iPhone.
I-FunBox
I-FunBox is a full-featured iPhone management program with versions for both Windows and OS X. After you install the software, you will be able to manage every single file on your iPhone. The software has an iFunbox Classic tab that includes options for "User Applications," "App File Sharing," "General Storage," "Camera," "iBooks," "Voice Memos," "Raw File System" and "File Search Results." You can back up single files or multiple files. You can also move items from your PC to the iPhone with i-FunBox.
Sharepod
Sharepod is available for Macs and PCs. The program enables you to easily back up and transfer music, playlists and photos. You can run Sharepod directly from the downloaded program file without needing to install it. You can back up single music files or all music files and playlists at once, and can also back up all of your iPhone's photos with one click using SharePod.
PhoneBrowse
PhoneBrowse is available for Windows computers as a paid and free app. The free version has many useful features for backing up iPhone files. It provides users with a summary of the iPhone's capacity and contents. The interface also includes tabs for "File System," "Applications" and "Storage." It exports files from the iPhone to the computer. You can back up the entire file system or individual apps. You can also use your iPhone as an external USB device with PhoneBrowse. The software enables you to create new folders in the iPhone file system.