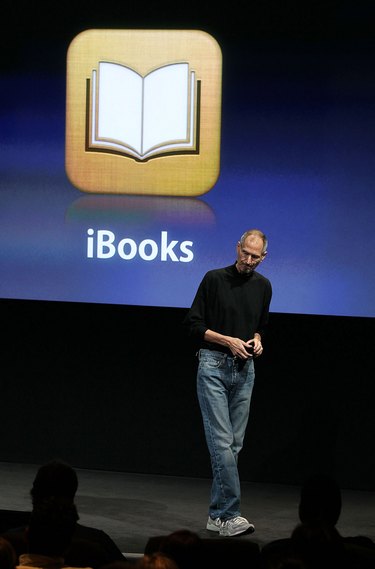 iBooks lets you download and read electronic books and Portable Document Format publications on your Apple iPod, iPhone or iPad. The application installs on your Apple device and publications you download within the application are not accessible for reading online. iBooks organizes your digital publications on a series of bookshelves so you can quickly click on a publication and read it. iBooks is free to download and installs via iTunes.
Features
iBooks lets you change from the bookshelf view to a listing of publications view by name, reorganize your digital publications and delete publications you no longer want within the application. You can also display only eBooks on the shelves or only PDF files, change the publication's orientation and adjust font size. Tap a publication's cover to open and read the eBook or PDF file. But you cannot transmit one or more publications to the Internet for viewing nor can you email a publication to yourself or others for viewing.
iBookstore
The application also includes a Store button that accesses iBookstore, an iTunes-based bookstore that lets you search and download thousands of eBooks and other digital publications to your iPod, iPhone or iPad. Many of the publications are free and iBookstore includes a built-in search engine that lets you locate publications based on keywords related to title, genre or author. iBookstore is not accessible on the Internet and publications downloaded via the service are not viewable online.
iBooks Search Component
iBooks also includes a search component that lets you locate an eBook or other publication you have downloaded to the application. The component only works with iBooks and doesn't locate files located in other applications on your Apple device. Within an eBook or digital publication, the search component also lets you find a word, phrase or character anywhere in the publication you are reading.
Downloading
Tap the Apps icon on your iPod, iPhone or iPad's main screen and enter "iBooks" in the search box. Press "Search" and tap "iBooks" when the application appears on the Search screen. Tap "Free" and "Install App" to download the digital publication reader. iBooks will appear on one of your Apple device's screens. Tap the application's icon to open the program and tap the "Store" button to begin searching for digital publications.