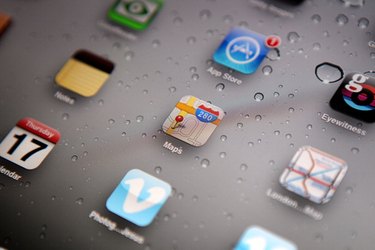 You can create documents in many common formats using the iPad, including Microsoft Office and Apple iWork compatible documents, PDFs, plain text and rich text files. The iPad's only native document creation app is "Notes," which allows you to create plain text documents that can be exchanged through email. Creating any other document format requires finding the appropriate app and using that app's interface to create your documents. There are often several apps that can create each document type, so check the specifications of each relevant app on the iTunes App Store before you purchase one.
Step 1
Connect your iPad to the Internet. Wi-Fi connections will be faster than 3-G for browsing the App Store and downloading apps, so connect through Wi-Fi if you can. Manage your wireless connections by tapping "Settings" and selecting "Wi-Fi" or "Cellular data" and choosing your preferred network. Also, make sure the "Airplane" setting is off.
Step 2
Press the "Home" button to return from the Settings app, and then tap the "App Store" app.
Step 3
Browse for an app that will create the type of document you need. Apple's "Pages" app is a full word processing application with the ability to add photos, rich formatting, and work with both Pages and MS Word files, as well as save to PDF. If you need a full suite of MS Office-compatible document creation, Documents To Go and Quickoffice Connect both offer different levels of Word, Excel and PowerPoint document creation. Both feature rich formatting and file sharing support. Quickoffice Connect also supports tables in your documents, which Documents To Go does not. However, the latter features a flexible word count option not found in Quickoffice. For plain text and PDF documents, plenty of options are available. Browse the App Store's "Productivity" category to find the best app for your needs.
Step 4
Tap the price button on the app you choose, and then enter your iTunes password to confirm the purchase. The app will download to your iPad.
Step 5
Locate the new app icon on your home screen and tap it after the download is complete. You can tell the download is finished when the progress bar disappears from under the app.
Step 6
Read the "Getting started" or "Help" file that comes with most apps. If yours does not have one, simply experiment with gestures and typing until you are comfortable with the app.
Step 7
Type your document using the iPad's virtual keyboard or an external keyboard connected through the docking port or Bluetooth.
Step 8
Edit your typing using the features within the app, such as text formatting, font choices or layout options. In most apps, you can double-tap a word to select it, and then drag the selection pane to cover any amount of text you want to select. Press and hold your finger on a text area to bring up the magnifier for precise cursor placement.
Step 9
Save your file before closing the app. Some apps, such as Pages, save automatically, so there is no "Save" button. Others have a "File" menu, which may be hidden under any number of icon images, so keep trying the icons until you find the correct one.