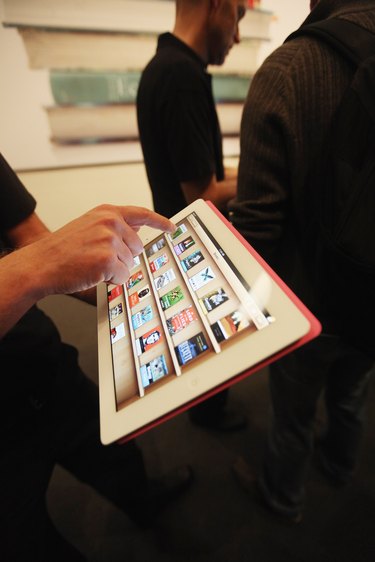 Adding notes to specific words, phrases and passages in books you read in the iOS 7 iBooks app makes it easy to follow up on mid-read thoughts or study points. Thanks to the built-in notes functionality in iBooks, annotating passages or short selections is as easy as the tap of a finger. The iPhone, iPad and iPod Touch versions of iBooks all use the same process for creating notes and saving them for later review.
Step 1
Open the book you want to annotate in your iBooks app. Browse through the content until you find the sentence or paragraph you want to annotate or annotate on the fly as you read a book.
Step 2
Touch and hold your finger on the passage until the contextual menu and selection handles appear. Adjust the selection handles to select as much or as little of the text as needed. You can select individual letters, words, sentences and paragraphs as needed.
Step 3
Touch the "Note" option in the contextual menu after you finish adjusting the selection. Type your note and then tap away from the note area to close and save. If you're using an iPhone or iPod Touch, you'll need to click the small right arrow on the contextual menu to display the "Note" option.
Step 4
On the iPad, tap the small note icon to the right of your annotated passage to view or edit the note. On all iOS devices, the annotated portions of a book or document in iBooks are indicated by the presence of highlighting. Tap the highlighted text to display a list of extra options. Click the color circles to change the highlight color, the trash can to delete the note, the note icon to edit the note or the share icon to copy or share the highlighted text.