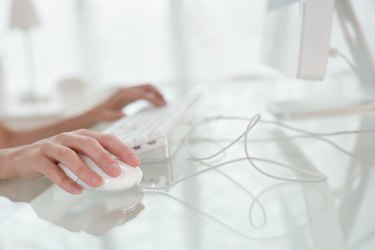 Sticky note pads contain handy little notes you can peel away and stick anywhere, making it easy to leave yourself reminders. You can make your own version of these handy notes yourself, using nothing more than the word processor you probably already own, reusable glue and colored paper. Making your own custom sticky notes can be both fun and cost effective.
Step 1
Open Word 2007. Go to the "Insert" menu and choose the "Draw Table" option. Draw a square three inches across and three inches down (per the ruler). Click inside the square, choose the "Insert" option, then insert one square to the right of the square you drew. Continue to insert squares until you have three rows of two squares each. This gives you six notes per page.
Step 2
Click inside each square to type something on the note. You might type "Joe's Notes," or "Just a Note," or "My Reminders." Select the text by left clicking with your mouse and dragging to highlight it, then go to the "Font' menu and select the font style you want for your text.
Step 3
Click the "Insert" menu and choose "Picture" to add a custom image to your note. Browse to the image's location then click the image. It will appear in your note. Once you have a note designed, right click your mouse, chose "Select All," then right-click again and click on "Copy." This will copy the note to your clipboard.
Step 4
Right-click your mouse, then choose "Paste" on each of your empty notes to paste your original note design into each of the notes on your page.
Step 5
Print your notes on whatever color printer paper you desire. You can purchase colored printer paper at office supply stores. Cut your notes with scissors or a paper cutter, then apply reusable sticky glue (also available at office supply stores) onto the back of each note, about a half inch to an inch wide strip. Stack the notes one on top of the other, using the sticky side to attach them. Print as many as you need and continue to assemble the notes until you have 30 to 50 notes in a pad.