The text message forwarding feature on the Apple iPhone isn't immediately obvious when you first launch the Messages app, because the app groups all received and sent text messages into threaded conversations. To forward a text message on an iPhone running the iOS 8 operating system, open the conversation thread, select an individual message and then use the Share feature to send the message to one or more of your contacts. The iPhone forwards the message as either a standard SMS text message, MMS multimedia text message or as a free Apple iMessage to other Apple mobile devices.
Step 1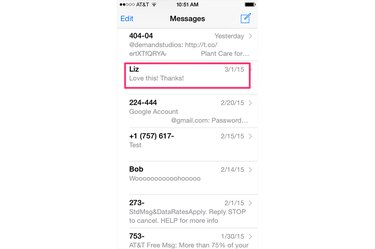 Launch the Messages app from the iPhone's home screen. Tap to select and open the conversation thread that contains the individual text message you want to forward. If you can't find the relevant conversation thread in the messages list, tap the top of the screen to launch the Search pane and then enter key words to filter the messages displayed in the list.
Step 2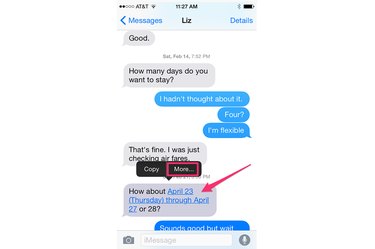 Scroll through the conversation. Touch and hold the specific text message and then tap the More button that appears above the message bubble.
Step 3
Tap the Share button with the curved arrow icon below the message pane; the iPhone displays a blue check mark beside the selected text message.
Step 4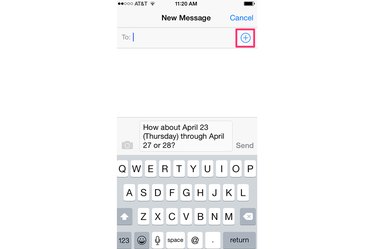 Touch the + button in the To: field to open your Contacts address book. Alternatively, tap the To: field and type the name or enter the phone number of the contact.
Step 5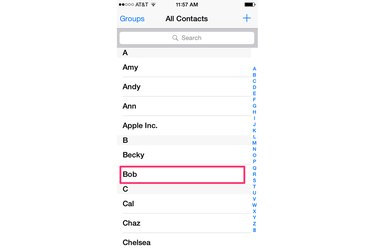 Tap a name to select a contact from your address book list.
Step 6
Inspect the To: field to make sure you've added the correct person. If you didn't, tap the Delete key on the keyboard pane to remove the contact. To add more people to the distribution list, tap the + button again and select each contact from your Contacts address book. When you've completed the distribution list, touch the Send button to forward the text message to your contacts.