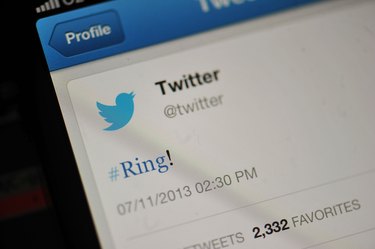 The Twitter app does not have a built-in uninstall feature. To remove the app, you need to use the uninstall process of the device it is installed on. For example, if you have the app on your Windows 8 computer, you need to uninstall it from the Windows Start screen. Similarly, you can uninstall the app from your iPhone or Android phone using either device's uninstall process. Uninstalling the app does not inadvertently deactivate your Twitter account.
Uninstalling Twitter From Android Phones
Step 1
Press the "Menu" button, and then select "Settings."
Step 2
Select "Applications," and then press "Manage Applications."
Step 3
Scroll down the list, tap "Twitter," and then tap "Uninstall."
Uninstalling Twitter From an iPhone
Step 1
Press and hold your finger on the "Twitter" icon.
Step 2
Tap the red "X" that appears at the top left corner of the icon.
Step 3
Tap "Delete" to confirm your decision.
Uninstall Twitter From Windows 8
Step 1
Press the "Windows" key to open the Start screen.
Step 2
Click the arrow at the lower left corner of the screen to display the list of apps.
Step 3
Right-click on the Twitter app, and then click the "Uninstall" button on the menu bar.
Step 4
Click the "Uninstall" button when prompted to delete the Twitter app.