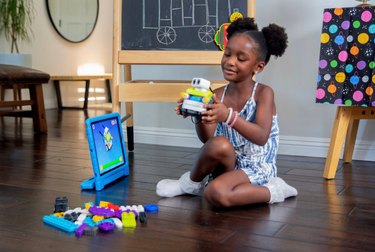 Life is weird right now, so if you've lost track of time, the current month is April. And if you've completely run out of ideas to keep your kids busy, this adorable robot can help.
Botzees is a robotics STEM kit for kids ages 4 and up that uses coding and construction to keep kids engaged in educational play. The game comes with 130 uniquely shaped blocks that can be used to build Botzees robots—either using a pre-designed concept, or kids can use their imagination to create their own.
The robots can be taught to do things like move, dance, drum, make sounds, and even light up. The Botzees app offers 30 interactive augmented reality puzzles designed to teach basic coding concepts, including sequencing, looping, and conditional coding. Kids can code the robots to move around within the augmented reality worlds.
You can buy Botzees here for $100.