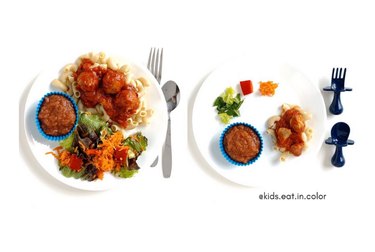 If your kids are picky eaters, you know how challenging it can be to get them to eat nutritional foods. As it turns out, it's a lot easier with some professional guidance.
Jennifer Anderson is a mom and registered dietician who runs the Kids Eat in Color Instagram page. The page helps make feeding kids a lot less stressful by offering clever ideas on how to get your kids to eat more fruits and veggies, as well as tips on productive ways to talk to them about food.
Here's some great advice on how to set your kids up to have a healthy relationship with food:
And some advice on how to talk about what different foods do for the body:
Anderson suggests serving one family meal instead of cooking other foods you think your child will eat.
Anderson believes that all food in moderation is perfectly fine. The language we use when talking to our kids about the "bad for us" foods like sugar is important. Reframing the way we talk about sugar can reframe our kids' relationship with it, setting them up for success.
For even more help in the kitchen, Anderson offers a weekly meal plan designed for busy families who want some guidance to provide more variety and introduce new foods.
The advice offered can truly be life changing for so many parents. Head over to the Kids Eat in Color Instagram page (or blog) to learn more.