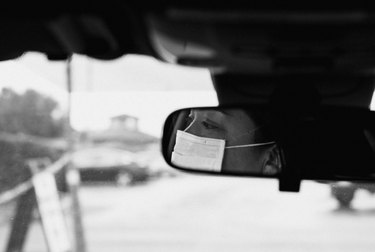 Lyft is the first ride-share company to require face masks for both drivers and riders. As local stay-at-home orders are beginning to ease, Lyft is implementing a new Health and Safety Program with new policies designed to keep everyone safe.
Before using Lyft, every rider and driver will have to certify in the app that they'll a wear face mask throughout the entire ride, are free of symptoms, leave windows open when possible, use hand sanitizer frequently, and will follow CDC and local guidelines related to COVID-19. If they are experiencing any COVID-19 symptoms, they aren't permitted to ride or drive. Passengers will also have to ride in the backseat to keep as much distance as possible.
Lyft is supplying drivers with cleaning supplies and masks, and since ridership is low right now, the company is providing drivers with more opportunities to earn money with Essential Deliveries, a service that provides contactless delivery of essential items like meals, groceries, and medical supplies.