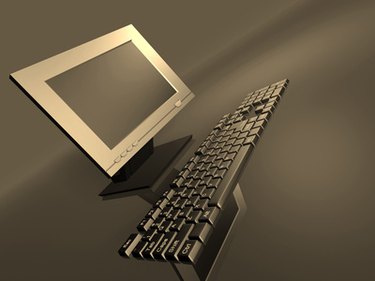 Take advantage of the device manager tool on your Windows-based computer to detect its motherboard drivers. The large circuit board inside your computer case, or motherboard, is the backbone of your machine that communicates with all other components. Your image-rendering video card, audio-producing sound card, and the central processor all plug into the motherboard. A motherboard has a set of drivers or files that allow it to function correctly with the rest of your system. In case you ever have to replace or remove these drivers, it's important to know how to determine which motherboard drives you have.
Step 1
Right click on the "My Computer" icon on your windows desktop. In the list of options that come into view choose "Properties" to open the system properties window.
Step 2
Select the "Hardware" tab from the options available to you in the system properties window. Hit the "Device Manager" button to reveal the device manger window. This is a list of all the devices on your machine grouped by type.
Step 3
Expand the "System Devices" category with a click, then find "Motherboard Resources." Double click on "Motherboard Resources" to view the motherboard resources properties window.
Step 4
Select the "Driver" tab. Information regarding you motherboard driver's name and version are displayed.