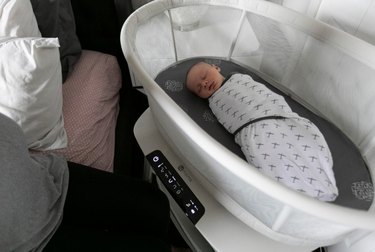 New parents are f-ing tired. There's really no way around it. Infants need to eat every couple of hours, and they aren't shy about letting the entire household know. 4mom's mamaRoo Sleep Bassinet is the smart way to help everyone get the sleep they need.
The mamaRoo Sleep Bassinet uses natural bouncing and swaying motions that simulate the movements you make when you hold your baby—the same ones that millions of parents swear by with the mamaRoo Infant Seat. The movements trick your baby (it's totally fine, promise) into thinking they're being held to help them fall asleep and stay asleep longer, which means ​you​ get to sleep longer too.
There are five motions to choose from: Car Ride, Kangaroo, Tree Swing, Rock A Bye, and Wave. There are also four soothing sound options: ocean, rain, fan, and shh. Finding the perfect combination that your baby responds to most will help the sleep process.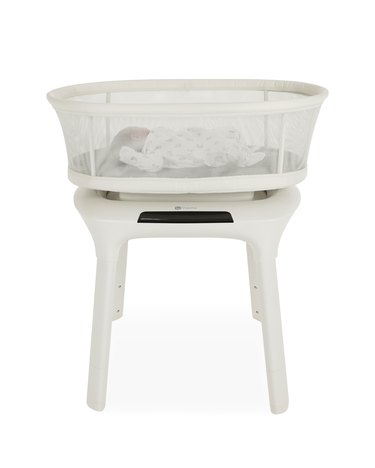 A firm mattress comes with the bassinet, as well as mesh sides for optimum breathability. The height can be adjusted so you can easily see and access your baby.
The best part of the mamaRoo Sleep Bassinet? It's Bluetooth enabled, so the motions, speeds, and sounds can be controlled from your smartphone. In other words, you can soothe your baby without getting out of bed, off the couch, or disrupting anything else you're doing. Through the app, you can also set a timer to help with the bedtime routine.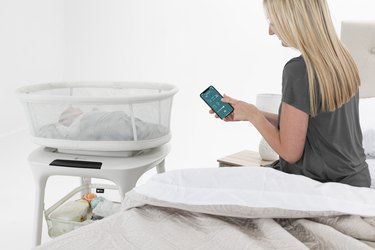 This should go without saying, but a bassinet doesn't make up for actual cuddles, but it can certainly help during the times you're busy or need to rest.
You can purchase the 4moms mamaRoo Sleep Bassinet on Amazon for $349.99.