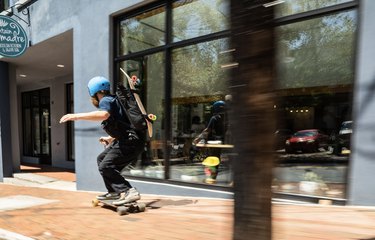 An electric skateboard is good for getting you where you need to go faster and saving you money on driving, public transportation, or calling an Uber or Lyft. But perhaps most importantly, it's really, really fun to ride. I know, because I was able to try one out, and riding it is how I imagine Marty McFly felt while on his Hoverboard, but without all the bad guys.
Bustin Boards is company based in Maryland that makes hybrid e-boards that let you manually push or use an electric boost for more power. The boards are hand-crafted and designed for speed, precision, and durability. My takeaway after riding one for two weeks? It's surprisingly easy to ride and easy to get the hang of the handheld remote — but you definitely need to be successful at riding a push board before jumping on an e-board.
The e-board is operated by a handheld smart remote that has a small LCD screen where you can see your speed and battery life. The battery itself has a long range, and even as it depletes, it still gives you the power you need to cruise around — even uphill.
Scroll on to see the two boards offered by Bustin Boards and their specs.
The Yoface is the skateboard to get if you want the style of a regular skateboard with the ability to do ollies and other tricks, but also want the option of power. Go for one of three styles: Ash Black Edition, Summer City Edition, or Elements Edition.
​Size:​ 33" double kick
​Speed:​ Up to 27 mph
​Range:​ Up to 14 - 16 miles
​Hill climb:​ Up to 25%
​Weight:​ 14 lbs.
​Key features:​ Portable and usable kicktails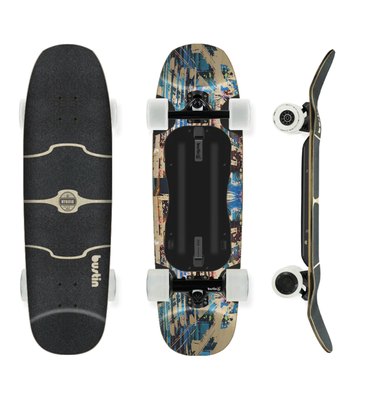 The Sportster feels like like a snowboard and can pump and carve like a regular board, but its power can get you uphill quickly. Its breaking system helps you slow your roll when needed. Choose one of three styles: Ash Black Edition, Summer City Edition, or All Natural Edition.
​Size:​ 35" double drop
​Speed:​ Up to 30 mph
​Range:​ Up to 18 - 20 mph
​Hill climb:​ Up to 30%
​Weight:​ 18 lbs.
​Key features:​ Low-profile and snowboard feel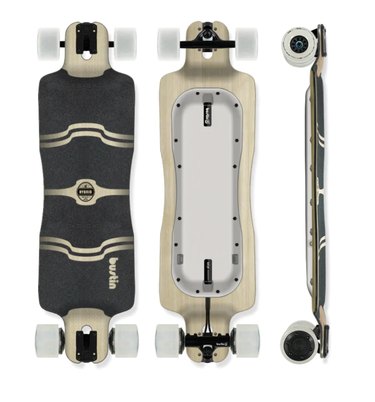 If you aren't sure which board is right for you, the company offers a quiz to help you figure it out. The company also offers full customization of the board you choose, including designing the graphic, case, trucks, wheels, and bearings.