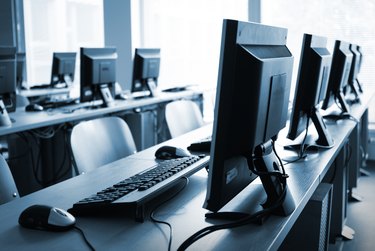 The Dell OptiPlex 380 and the Dell OptiPlex 780 are desktop PCs from computer technology giant Dell Inc. geared toward corporate, government and education markets. Although the computers share many features, a few differences between the two makes the OptiPlex 780 slightly superior to the OptiPlex 380.
Models
The Dell OptiPlex 380 is available in three models. The mini-tower, the biggest model of the three, measures 16.1 inches in height, 7.4 inches in width, 17 inches in depth and weighs 26.5 lbs. The traditional desktop has middling measurements of 15.7 by 4.5 by 13.9 inches, with a weight of 19.8 lbs. The smallest OptiPlex 380 model is made in the small form factor, with measurements of 12.4 by 3.7 by 13.4 inches and a weight of 15.4 lbs. Dell uses the ultra-small form factor for the OptiPlex 780, which has a total measurement of 9.4 by 2.6 by 9.3 inches and weighs 3.2 lbs.
Operating System, Processor and System Memory
The Dell OptiPlex 380 and the OptiPlex 780 are mainly based on the Windows Vista and the Window 7 operating systems. The processor is a dual- or quad-core chip from Intel Corp.'s top-level Core 2 brand or single- or dual-core chip from its low-end Celeron brand. Although both computers have two dual inline memory module slots to accommodate the system memory, the OptiPlex 380 comes with 4GB while the OptiPlex 780 usually has 4GB or 8GB.
Storage and Graphics
Both the Dell OptiPlex 380 and the OptiPlex 780 offer Serial Advanced Technology Attachment-connected hard disk drives that offer 160GB, 250GB, 320GB and 500GB of data storage. The OptiPlex 780, however, also offers the option of a 64-GB or 128-GB solid state drive, which are less susceptible to physical shock, quieter and more stable than traditional hard drives based on a spinning disk. Also, the OptiPlex 780 offers video/graphics cards that use up to 512MB for video capabilities, while the 380 offers up to only 256MB.
Networking and Connectivity
For wired networking, the Dell OptiPlex 380 and the Dell OptiPlex 780 each has a 10/100/1000-megabits-per-second Ethernet connection and a WLAN (Wireless Local Area Network) card adhering to IEEE (Institute of Electrical and Electronics Engineers) 802.11 draft-N protocol. The connectors for each computer include RJ-45 jack for the Ethernet, eight USB 2.0 ports (seven for the OptiPlex 780's ultra-=small form factor), parallel and serial ports, Video Graphics Array port for analog computer monitor display, DisplayPort for digital visual display as well as digital audio, and two microphone and two headphone jacks.