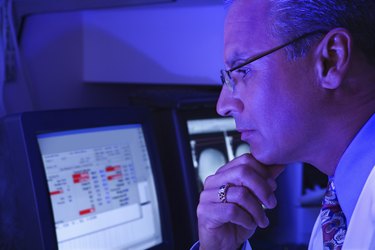 Headquartered in Taiwan, Foxconn is one of the largest suppliers of electronic components. Using the microATX form factor, the Foxconn G33M02 is the motherboard on some Dell desktop computers. It is most commonly associated with the Inspiron 530 Series, which was released in 2006 and is best known for comprising the first entry of the Inspiron product line. Foxconn manufactured the G33M02 for the Windows 7, Windows Vista and Windows XP operating systems.
CPU Support and Chipset
The socket that houses the central processing unit on the Foxconn G33M02 is called Land Grid Array 775, or Socket T. The LGA 775 socket on this motherboard can accommodate Intel Celeron, Pentium Dual-Core and Core 2 Dual Core processors. Although other members of the G33 motherboard family also support Core 2 Quad processors, this one doesn't. The Intel G33 chip, after which the motherboard is named, is directly connected to the CPU and consequently functions as the northbridge; this leaves the other chip, the Intel ICH9, to handle the motherboard's slower capabilities, thus functioning as the southbridge.
Graphics and Audio
Built into the Foxconn G33M02 is the Intel Graphics Accelerator 3100, which provides the computer's graphics and video. As an integrated graphics chip, the Intel GMA 3100 shares up to 256MB of the computer's memory, and can support a maximum resolution of 2,048 by 1,536 pixels. Also integrated into the motherboard is the Realtek ALC888 driver, which provides the computer's high-definition audio.
Memory and Data Storage
The Foxconn G33M02 comes with four 240-pin DIMM slots for random access memory. Using DDR2 SDRAM technology and operating at a speed of 667 or 800 MHz, each slot can accommodate 1GB of RAM; users can install up to 4GB with this motherboard. For installing mass storage devices like hard drives and optical disc drives, the G33M02 has four Serial ATA connectors. Using second-generation SATA technology, each connector has a native transfer rate of 3 gigabits per second.
Expansion Ports
For attaching hardware like network cards, TV tuner cards and modems, the Foxconn G33M02 has four Peripheral Component Interconnect expansion slots. Two of them are Conventional PCI slots, while the other two are more advanced PCI Express slots. One of the PCI Express slots has a single lane for receiving and transmitting data, while the other uses 16 lanes.
External Ports
Computers with the Foxconn G33M02 have four USB 2.0 ports for connecting peripherals like printers and external data storage devices. A VGA port is for connecting the monitor, and an audio connector is for plugging in headphones or audio cables. Also included is an Ethernet port for wired computer networking at up to 100 megabits per second.