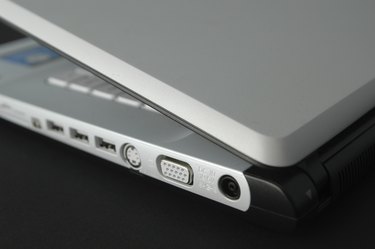 The Sony VAIO PCG-7113L -- better known as the Sony VAIO VGN-NR330E/S -- is a notebook PC that Japanese multinational consumer electronics company Sony Corp. introduced in 2008. Designed as a mid-range laptop ideal for home use, it is based on the Microsoft Windows Vista Home Premium operating system. At the time of publication, the VAIO PCG-7113L is no longer in production.
Processor and Memory
The Sony VAIO PCG-7113L has a dual-core Intel Pentium T2370 processor, which has a 1.73-gigahertz processing speed, 533-megahertz data transmission speed and a one-megabyte Level 2 cache for it to quickly access the computer's most frequently used data. The laptop comes with its maximum system memory capacity of 2 gigabytes pre-installed, with an adherence to the second-generational Double Data Rate Synchronous Dynamic Random Access Memory standard, or DDR2 SDRAM.
Storage and Media
The Sony VAIO PCG-7113L's hard drive, connected to its Serial Advanced Technology Attachment interface, offers 160 GB of storage space and has a rotational speed of 5,400 revolutions per minute. Also included is a digital media reader compatible with Secure Digital and Memory Stick PRO flash memory brands.The optical drive -- a CD/DVD player and burner -- supports the "+" and "-" DVD recordable formats and dual-layer discs. The 7113L uses a Windows Sound System-compatible driver for its audio, while the graphics and video come from the 358-MB Mobile Intel Graphics Media Accelerator X3100 controller.
Connectivity
The modem of the Sony VAIO PCG-7113L adheres to the International Telecommunications Union's V.90 and V.92 standards, as well as offers a peak data transmission rate of 56 kilobits per second. Wired networking comes from a 10Base-T/100Base-TX Ethernet driver with up to 100 megabits per second in data transmission speed. As for wireless networking, that comes from the Atheros adapter with Institute of Electrical and Electronics Engineers 802.11 b/g compliance. Apart from the RJ-11 and RJ-45 jacks included with the modem and Ethernet, the 7113L has headphone and microphone jacks, i.LINK interface, four USB 2.0 ports and Video Graphics Array output among its external connectors.
Size, Display and Power
Weighing no less than 6.3 lbs., the Sony VAIO PCG-7113L has a width of 14.2 inches, depth of 10.6 inches and height of 1.2 to 1.5 inches from its front to rear. Its 15.4-inch screen has liquid crystal display and Sony's glossy-display XBRITE-ECO technologies, as well as a Wide eXtended Graphics Array graphics display resolution of 1,280 by 800 pixels. The laptop's power comes from a 95-watt AC power adapter and an 11.1-volt 5,200-milliampere-hour lithium-ion battery that offers up to five hours of operation.