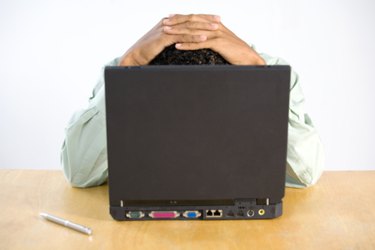 HP released the DV6000 model of notebook PC in early 2007 with a wide variety of available options so that the consumer can customize the laptop to their price and liking. The different options can take this notebook from a low-price, entry-level model to one that was on the cutting edge of notebook hardware at the time.
Physical
The HP DV6000 measures 14.05 inches long, 10.12 inches wide and 1.57 inches high at its highest point. The laptop weighs in at 5.8 pounds, although some configurations may be a bit heavier. The laptop can be operated in conditions between 41 and 95 degrees Fahrenheit, between 10 and 90 percent humidity and up to 10,000 feet in altitude. The laptop can be stored in conditions between -4 and 140 degrees Fahrenheit, 5 and 95 percent humidity and up to 40,000 feet.
Processor and Memory
The HP DV6000 can come with a variety of different processors. It can come with Intel Core Duo processors from 1.6 GHz to 2.0 GHz, Intel Celeron processors from 1.6 GHz to 1.86 GHz, AMD Turion processors from 1.6 GHz to 2.0 GHz and Mobile AMD Sempron processors from 1.6 GHz to 1.8 GHz. The laptop comes with 256 MB of SDRAM running at 667 MHz. The laptop has two RAM slots and can be expanded to hold up to 2 GB of RAM.
Display and Graphics
The LCD screen on the DV6000 is a 15.4-inch WXGA HP Brightview display. The LCD can display up to 16.8 million colors in a maximum resolution of 1280-by-800. The screen has a contrast ratio of 200:1 and has 160 nits of brightness. The graphics are controlled by an NVIDIA GeForce Gp 7200, Go 6150 or nForce Go 430.
Storage and Optical Devices
The DV6000 can come with either a 200 GB hard drive that runs at 4200, or one of several smaller hard drives, ranging from 160 GB to 40 GB, that run at 5400 rpm. The laptop can also come with one of three optical drives: a DVD+/-RW/R and CD-RW Lightscribe drive, a DVD+/-RW/R and CD-RW drive or a DVD/CD-RW combo drive.
Networking and Battery
The DV6000 has three devices to get you connected to the Internet. It holds an integrated 10/100 BASE-T Ethernet card, a 56K high-speed modem and an integrated IEEE 802.11b/g wireless card. The battery on the DV6000 measures 5.28 inches long, 3.7 inches wide and 0.79 inches high. It works at 11 Volts and has a 4.4 Amp-hour capacity and a 48 Watt-hour capacity.