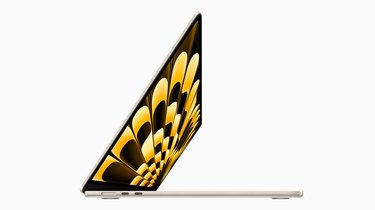 Apple debuted the new 15-inch MacBook Air at the 2023 Worldwide Developers Conference on Monday. It's essentially a bigger version of the 13.6-inch MacBook Air that was released in 2022.
The verdict is out, but Apple claims that the new device will be "the world's best 15-inch laptop." The MacBook Air is powered by an M2 processor, which delivers better overall performance than the M1. It's 11.5 mm thick, making it the world's thinnest 15-inch laptop, according to the company. Other cool features include two USB-C Thunderbolt ports, a headphone jack, and a MagSafe charging connector. The laptop will come in four color options: space gray, silver, midnight, and starlight.
For now, the 15-inch MacBook Air will run macOS Ventura until macOS Sonoma becomes available in the fall. It'll have a fanless design, and the battery will last around 18 hours. You can get up to 2TB of storage and 24GB of RAM.
As for the price, the new model will start at $1,299 and will be available for purchase next week. The price on the 13-inch MacBook Air with M2 has changed to a starting price of $1,099.