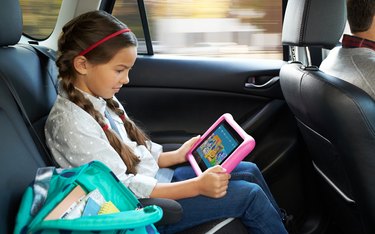 Amazon Prime Day 2023 is finally here, which means it's time to buy that Fire tablet you've had your eye on. Amazon's tablets are some of the most highly functional and reasonably priced tablets on the market. Whether you're buying the Fire HD 10 for yourself, the Fire HD 8 to save some money, or the Fire HD 8 Kids Edition, you really can't go wrong.
Scroll on for the Prime Day deals on Amazon's Fire tablets.
The Fire HD 10 has the largest screen of the Fire tablets, making it a great tablet for streaming movies and shows. As with the Fire HD 8, you can use Alexa's Show Mode to turn the tablet into an Echo Show. You can also use Alexa to give the tablet commands from anywhere in the room. Choose from a 32 GB or 64 GB model in black, denim, lavender, or olive.
Best Fire Tablet For Kids
The Fire Tablet Kids Edition 2022 is aimed at kids ages 3 to 7. The tablet is small enough for little hands, and the padding protects it from the inevitable drops. The kids' version of the tablet is actually the same as the regular tablets, but it has a colorful, rugged case and a two-year guarantee. So, if your kids break the tablet, Amazon will replace it for free.
The tablet also comes with one year of Amazon Kids+, which offers kid-friendly movies, games, books, and apps. Once the year is up, the cost to subscribe is $5 a month for Prime members and $8 for everyone else. The case comes in four color options with a storage capacity of either 32 GB or 64 GB.
The Fire HD 8 came out in 2022, and even though it's a less expensive version of the tablet, it's a fantastic option. Featuring a fast processor, a thin design, and a smaller screen, the tablet is great for travel. It also features stereo-sound, hands-free Alexa, and up to 12 hours of battery life.