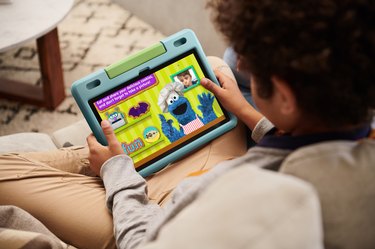 Amazon's Prime Big Deal Days kicked off today, Oct. 10. If it seems like Amazon regularly launches a new Prime Day, that's a pretty accurate assessment. However, now that holiday shopping has officially started, you might as well jump in and save money on gifts, specifically Amazon Fire Tablets for kids.
Most of Amazon's Fire Tablets for kids are currently 50% off, and that includes tablets for kids as young as 3 years old through 12. You probably won't see the tablets listed for a price this low again until sometime next year, so no pressure, but now might be the time.
I rounded up the best deals on kids' Fire Tablets so you can grab one while the deals last.
The Most Affordable Kids' Tablet
The Fire 7 Kids' Tablet is the lowest priced tablet you can find right now and is currently 50% off of its original price of $109.99. It was released in 2022 and is designed for kids ages 3 to 7. The tablet offers 16 GB of memory, 10 hours of battery life, excellent parental controls, ad-free content, a durable high-resolution screen, a kid-proof case with a kickstand, the choice of three colors, and a two-year warranty that let's you exchange the tablet if your child breaks it.
This Affordable Tablet With A Larger Screen
Also 50% off right now, the Fire HD 8 Kids' Tablet is another 2022 version that's meant for kids ages 3 to 7. It has an 8-inch display, offers 32 GB of memory and one free year of Amazon Kids+. It also has a kid-friendly case with a stand, 13 hours of battery life, and is available in four colors. Just like all the kids' tablets, you get a two-year worry-free warranty.
The Fire HD 8 Kids' Pro Tablet is designed for kids ages 6 to 12. It's still a super safe tablet for kids, but it's geared towards older kids who can handle a tablet that's a bit more sophisticated. The tablet has a 30% faster processor, 32 GB of storage, 13 hours battery life. Like all kids' tablets, it offers excellent parental controls, one year of ad-free age-appropriate Amazon Kids+ content, a kid-friendly case, and a two-year warranty where the company will replace the tablet for free if it breaks. This tablet is currently 50% off and is available in three color options.
This Kids' Tablet With The Largest Screen
The original price of the Fire HD 10 Kids' Tablet is $199.99, but it's currently listed at $119.99 — a 40% discount. Designed for kids ages 3 to 7, the tablet has a 10.1-inch screen, full HD, 32 GB of memory, and all the bells and whistles of the other kids' tablets. This one is only available in sky blue.