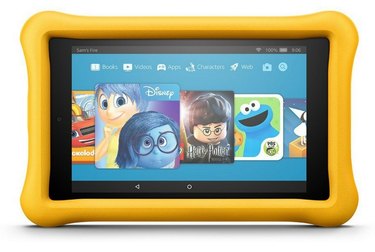 Your kids might promise to take extra good care of whatever expensive gadget they talk you into buying them, but let's face it, that won't happen. Kids break things. They're destructive. But you just have to take that into account when buying them nice things.
Thankfully, Amazon gets it. The Fire HD 8 Kids Edition tablet comes with a two-year worry-free guarantee. So, if it happens to break within two years, Amazon will replace it without even questioning how it broke. You'll need to return the broken tablet to get a free new one though, so if "broken" really means "lost," Amazon can't help you.
The Kids Edition tablets have thick, colorful bumpers that help ensure your kids won't crack the screen. But since kids somehow find a way to break all things everywhere, it's nice to know it's replaceable if need be.
When you purchase the tablet, you get a free one-year subscription to FreeTime Unlimited, which gives you access to 15,000 popular apps and games, videos, books, and educational content from PBS Kids, Nickelodeon, Disney, and more. Once the year is up, it's $83 a year for Prime members.
The 16 GB model starts at $99.99, and the 32GB starts at $129.99. The bumpers come in three colors: blue, pink, or yellow. Check it out here.