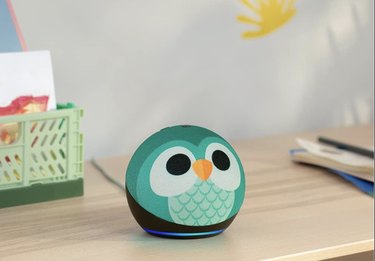 If you've been wanting to buy your kids an Echo Dot for their room or playroom, now is a great time as the devices are currently 25% off on Amazon.
The Echo Dot 5th Gen (2022 release) comes in two adorable designs: an owl and a dragon. They're both designed for kids ages 3 to 12 and are equipped with loads of parental controls so you don't have to worry about their safety when they use Alexa unsupervised. Alexa will automatically give kid-friendly responses and filter explicit songs. You can also set daily time limits for usage and review your child's activity in the Amazon Parent Dashboard.
Kids can ask Alexa to play music through whichever music streaming service you use (Amazon music, Apple Music, Spotify, etc.), read a bedtime story, and get help with homework.
The Echo Dot for kids is currently on sale for $44.99, which is down from $59.99.
With the purchase of a kids' Echo Dot, you get one year of Amazon Kids+ for free, which includes access to Audible books, play interactive games, and use Alexa's educational skills. After the first year, a subscription will automatically renew starting at $4.99 a month.
As a bonus, there's a two-year guarantee on the Echo Dot for kids, so if the device breaks, Amazon will replace it for free. Which is great, because you know, kids.