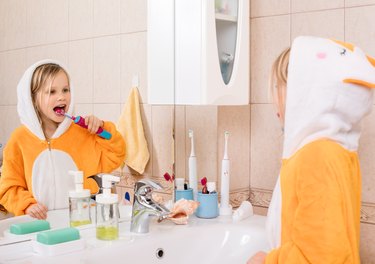 Getting your kids to brush their teeth can be, well, like pulling teeth. Whether your kid needs some help getting their teeth clean or they can handle it all on their own, the right toothbrush can make the whole process less painful for everyone involved.
I researched the best electric toothbrushes for kids that'll effectively clean their teeth when used properly, as well as add some fun and excitement to the whole teeth cleaning process.
1. Burst Kids Electric Toothbrush
The perfect size for toddlers and young kids, this electric toothbrush comes in five fun colors, including two Cocomelon designs. Extra soft tapered charcoal bristles, along with a powerful motor, effectively cleans little teeth better than a manual toothbrush. The silicone handle is soft and easy to hold onto, and a 2-minute timer pauses every 30 seconds as a reminder to switch areas.
2. Dycrol Kid's U-Shaped Electric Toothbrush
This adorable toothbrush is different than the typical electric toothbrush. Shaped like a U, the toothbrush promotes healthy gums and teeth without the need for actual brushing. Simply apply toothpaste to the tray, and the ultrasonic toothbrush can clean teeth using different function modes, including standard, gum protection, cleaning, whitening, or deep cleaning mode. The toothbrush comes in blue or pink for ages 2 to 6 or 6 to 12.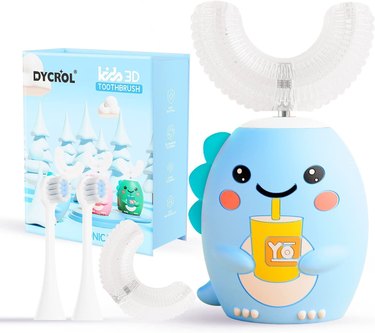 3. Brusheez Kid's Electric Toothbrush Set
This set comes with an electric toothbrush, a cup, a timer, an extra toothbrush head, and a stand to hold everything. Choose from several animals, including unicorn, giraffe, dino, bear, llama, shark, and elephant. To avoid mold build-up, make sure to dry the toothbrush completely before putting the head back on.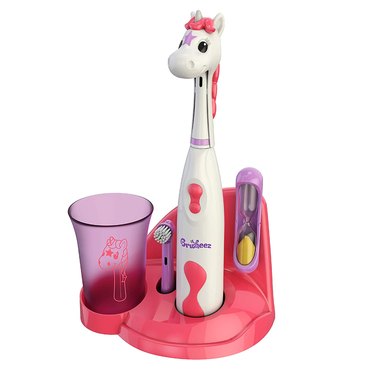 4. Philips Sonicare Toothbrush for Kids
Get your kids to brush longer and better with Philips Sonicare toothbrush for kids. Designed for kids ages 3 and up, this toothbrush is Bluetooth-enabled so kids and parents can keep track of their progress. The built-in timer gradually increases to two minutes to help train kids brush to the recommended time, and music alerts kids when to move to the next section. The brush comes in three design options.
5. Seago Kid's Electric Toothbrush
This toothbrush is designed for kids ages 3 and up. It comes with three replacement heads and has colorful LED light that make brushing teeth a little more exciting while also helping kids and parents see problem areas.