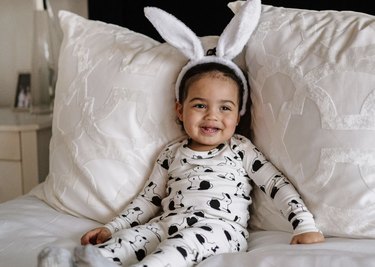 When it comes to adorable, holiday themed pajamas for kids, it's hard to know who enjoys them more — you or your kids. Easter pajamas might take the cake when it comes to cuteness, because there really isn't anything sweeter than kiddos waking up on Easter morning wearing pjs featuring pastel bunnies and Easter eggs.
I scoured the internet to find the cuddliest and cutest pajamas to give your kids on Easter — whether it's in their Easter baskets or to wear throughout the entire month of April and beyond.
1. Hanna Andersson Easter Long John Pajama Set
These aren't your average Easter pjs. The vibrant Easter eggs are so colorful and modern, they can absolutely be worn year-round. Even better, they're also available in sizes for the whole family.
‌Available sizes:‌ 2T - 14/16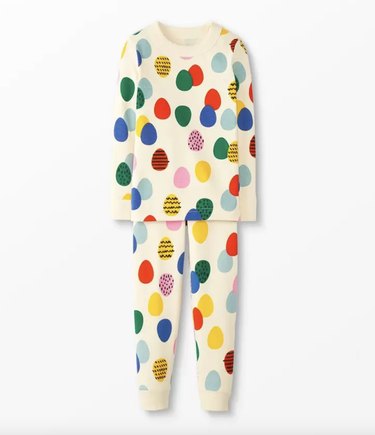 2. Monica + Andy Two-Piece Pajama Set
You and your kids will adore these black and white bunny pajamas. Not only are they low key Easter themed, but they're also super soft and cozy.
‌Available sizes:‌ 2T - 10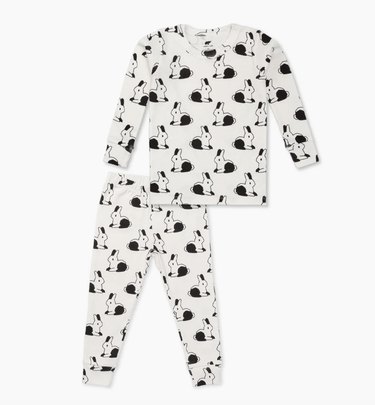 3. Vaenait Baby Easter Pajamas
Check out this cute pajama set featuring a bunny on the shirt and knee patches on the pants. The waste is extra stretchy for a comfortable fit.
‌Available sizes:‌ 12-18 months to 4-5T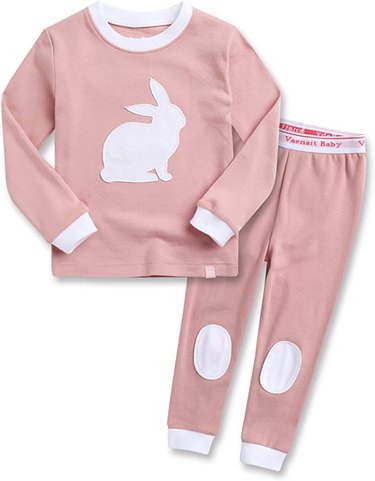 4. babyGAP Organic Bunny Pajama Set
The perfect mix of bunnies, penguins, and chicks, the design of this blue pajama set is ideal for Easter and beyond. Made of 100% organic cotton, the pajamas are soft, stretchy, and comfortable enough for your kids to want to wear them all the time.
‌Available sizes:‌ 3T to 6T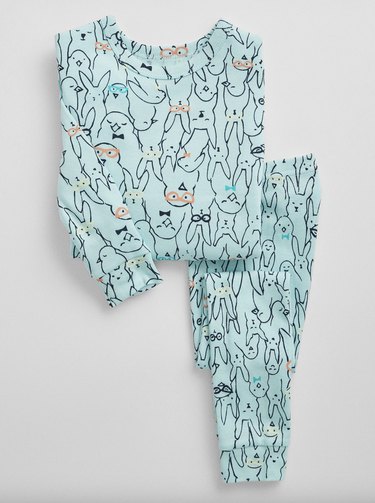 This gender neutral pajama set comes with a gray t-shirt and pants, both featuring Easter rabbits. The soft pajamas have an elasticized waste for comfort.
‌Available sizes:‌ 12-18 months to 5T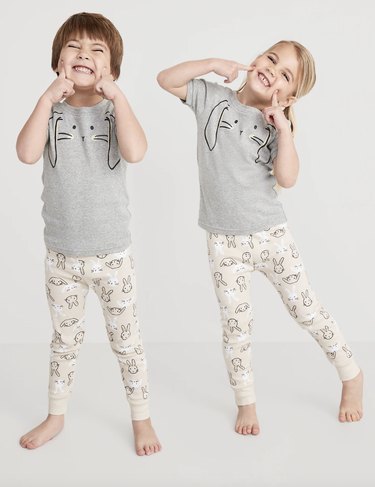 6. Carter's Bunny Nightgown, 2-Pack
Bunnies, bunnies, and more bunnies! Your kiddo will love this two-pack of pink and purple nightgowns. There are multiple design options but bunnies are of course ideal for Easter.
‌Available sizes:‌ 2-3 to 12-14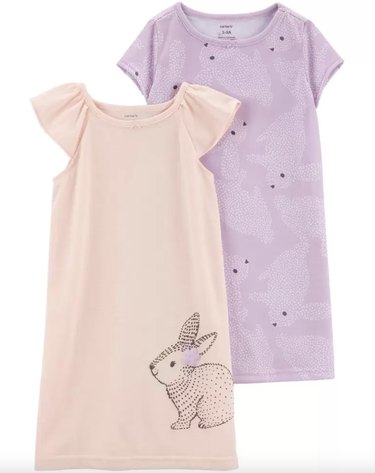 7. Peeps Easter Pajama Set
As it turns out, Peeps aren't just for eating. Now your kids can wear the tiny marshmallow bunnies on pjs ‌while‌ eating them.
‌Available sizes:‌ 18 months to 5T
8. Burts Bees Easter Celebration Organic Pajamas
If you and your family enjoy a pajama Easter egg hunt, these pjs will make the perfect addition to the morning. Made of 100% organic cotton, these pajamas are extra soft with a snug fit.
‌Available sizes:‌ Newborn to 12 years