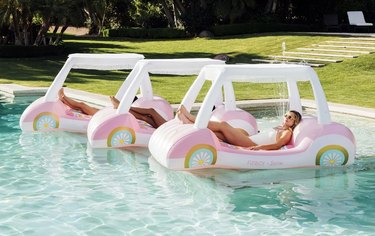 It's never too early to start planning your summer pool floats. Gone are the days when the only pool floats you have to choose from are the ones you find at the local store that get the job done but are so blah you can't even remember what they look like. The internet, and one company in particular, has given us access to countless unique, stylish, and super fun pool floats. I don't know about you guys, but I'm really happy they exist.
FUNBOY makes the coolest pool floats and inflatables that will absolutely bring the fun to any pool party this summer — or even just to your backyard pool for some solo floating/relaxation time. But not only that, the company also sells sleepover beds, sleds, and inflatable pools for kids, as well as an entire line of Barbie-themed floats and inflatables.
Scroll on for my favorites that I think you'll love too.
Whether you're a big fan of golf or just a big fan of awesome pool floats, this Golf Cart Float brings the fun and the comfort. It has enough space for two grown ups to comfortably lounge. The removable fringe-lined sunshade is a nice touch if you need a break from the sun.
Yes, this Giant Cabana Dayclub is dramatic, but sometimes drama is a good thing. It's the perfect float to bring on spring break, on vacation with friends, or to a weekend at the lake. The material is thick with strong backrests and seats. It comes with a carry bag and a removable mesh shade, and it has dual mesh foot baths and a central storage compartment for drinks or a speaker. Up to four people can chill on this float.
This White Leisure Chair is the perfect way to lounge in the pool while also being able to sit up and chat with friends. Its size allows your feet to dangle in the water, and the shape of the float cradles your body for maximum coziness.
If you show up to a pool or beach day with this Lip Float, everyone will know you're ready to have a great day. This one is on the more affordable side of the floats, but it certainly doesn't lack in awesomeness. It's available in both metallic pink and red.
Why buy a child-sized air mattress for your kids from Amazon when you can get them the most adorable sleepover bed ever to exist? This Pink Convertible Kids Sleepover Air Mattress makes bedtime way more fun — whether it's at a sleepover or on vacation. The bed is designed for kids ages 3 and up.
OK, so technically it's still snowing in many parts of the country, so if you aren't quite ready for a pool float, check out the Groovy Rocket Sled. The sled is, in fact, groovy with its mid-century modern color scheme. It seats one to two adults or kids and has handles and a rope for easy operation.
You know that basic blue plastic kiddie pool that you probably had when you were a kid? Yeah, don't get that. Get this fun and cozy pool with a tie-dye design. If tie-dye isn't your thing, there are nine designs to choose from.