Renting a scooter to get from point a to point b is a great way to commute, but now isn't a great time to do it. The pandemic has made shared mobility, and public transportation in general, a pretty risky way to travel. So, if it's in your budget, you might want to consider buying an electric scooter of your own.
GOTRAX makes a foldable electric scooter that can travel up to 15.5 mph, and it's surprisingly affordable. The XR Elite is designed for commuting—the foot deck is wide enough to comfortably stand with both feet, and it features anti-slip material for safety. It can be folded when you aren't using it, making it compact enough to bring inside or store somewhere without it taking up an annoying amount of space.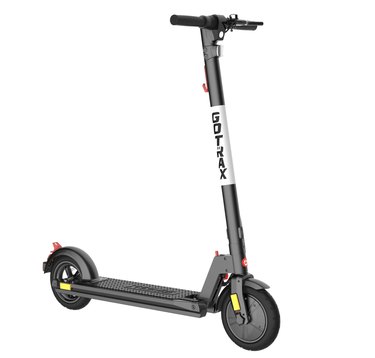 I was able to try out the scooter, and it's pretty much all I want to do all day long. My kids want to go for a bike ride? Perfect. I'll hop on the scooter. They want to go for a walk? Great. They can walk, and I'll do laps and wave to them as I go by.
The XR Elite is easy to handle and great for beginners, because you don't need to have excellent balance to ride it successfully. You literally just stand there and the scooter does the work for you. You do, however, need to wear a helmet just in case.
The scooter has a dual braking system with both disc braking and anti-lock electrical braking. The brake is pretty sensitive, which takes some getting used to.
Aside from it being a useful way to get around locally, as well as being super fun, the best part is that it's actually affordable for an electric scooter—it's $400.