The last mile--that final part of the commute where you hoof it. You've parked your car. You've stepped off the train. But there's still that stretch where you're expected to use your feet, which feels suspiciously like exercise. Frito-loving commuters take heart: An explosion of futuristic (and fun) personal transports have appeared to carry us that last mile.
Remember Segway?
The original Segway never quite lived up to its hype. Partly it was a victim of media expectations it couldn't hope to meet. After months of breathless anticipation and knowing literally nothing about it except for its codename "Ginger"--people conjectured it might be a futuristic kind of clean energy, for example--inventor Dean Kamen eventually unveiled it on Good Morning America in 2001, and people said, "That's all?"
Naysayers predicted entire cities would have to be re-designed to accommodate these not-quite-cars-not-quite-bicycle contraptions. And then we learned the price. They debuted around $8000 each.
Then former President George W. Bush fell off one in 2003, which didn't enhance the reputation of George Bush or the Segway. Finally, a British entrepreneur bought the company and promptly drove one of his products off a cliff to his untimely demise, seeming to prove what Americans already knew--the Segway was a menace.
But America might have judged too soon. Segway was not only the technological grandfather of hoverboards and, well, virtually every self-balancing scooter in existence, it's also getting a new lease on life. The company was bought by China's Ninebot Limited, which is coming up with all kinds of imaginative Segway products. Even Segway robots. Two new products that debuted last month include the One S1 and the MiniPRO.
Segway Ninebot One S1
The Ninebot One S1, which retails for $600, is essentially a wheel with two foot pads that you stand on. It travels 15 miles on a single charge and has a top speed of 12.5 mph. It can hold a rider weighing up to 220 pounds. The device itself weighs 25 pounds.
One caveat about the One S1: There's a learning curve, and it's not for everyone. "We've found that riders with a certain skill set, combined with a fearless mindset, can learn to ride in about an hour," said Brian Buccella, Segway's VP of Marketing and Business Development. In other words, it's for adventurous, charismatic people who like a challenge. perhaps that's why the Segway rep I met with took one look at me and said forget it. They didn't hurt my feelings. I was relieved. If I'd gotten on the thing, I suspect I'd have been injured.
Segway MiniPRO
But I did ride the MiniPro, which also appears intimidating but is easy to learn, and quickly. It looks like a miniature Segway, except the control bar stops just above your knee. You steer by applying pressure from your inner thigh.
The system works great and I was surprised to be doing figure eights in no time. The MiniPro has a top speed of 10 mph and a range of 14 miles. It weighs 28 pounds.
The MiniPro has a number of cool features, including the ability to actually drive it remotely via an app on your phone. Summoning your ride so that it drives up to you is definitely appealing.
The app also has a lock for safety so someone can't jump on and drive off with it. The MiniPro retails for $600.
Espin eBike
Traditionalists might prefer something less futuristic than self-balancing wheels. If that's more your taste, you'll want to look at Espin, a new electric bike from San Francisco (a place with lots of hills, making it the perfect breeding ground for electric bicycles).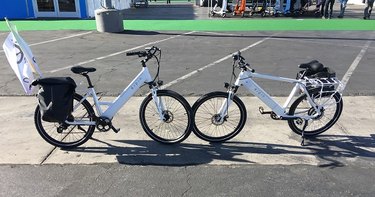 In fact, its co-founder Josh Lam told me he started the company because he used to bike to work in downtown. "I'd ride my bike to work and show up sweaty," he said."I'd have to change clothes and after a long day at work I'd have to ride back up a hill."
Josh still wanted the bicycle-like aspects of an electric bicycle, however, something he could still use for exercise. The result is an electric bike that works like a bicycle in all respects. But you can choose to lean into its pedal-assisted motor. It has five assist levels, each one multiplying the power of your pedaling. The highest setting yields a maximum speed of about 25 mph. Of course, you can still use the bike lane and you don't need a license.
I was a little skeptical when Josh told me that this 47 pound bike feels weightless when riding. But it turns out he was right. The weight is fine even when pedaling without the assist. With the pedal assist, you feel like you're flying.
The bike uses the same battery found in a Tesla Model S and has a range of 25 to 50 miles depending on how you ride it. The battery charges in 4.5 hours from a completely depleted state (which if you're taking it to work, is plenty of time to give it a full charge). The battery does require a special charger which you must have with you. Espin bikes sell for $1,888.
Immotor Go
The Immotor Go is the brainchild of CEO Daniel Huang, best known for creating the smartphone charging case Mophie. He's still into batteries, and the Immotor Go is itself a sort of proof-of-concept for the 'Super Battery' that powers it.
Having hopped onto this three wheeled scooter, I can say it takes essentially no time getting the hang of it. It offers three driving modes: The first is slow and safe, the second is quicker, and the third is freestyle that allows for up to 20 mph. Its range is about 20 miles.
The Immotor go has a decently loud horn, LED lighting in front and back, and you can adjust the height of the handle. Atop the handle, you'll find a digital readout that includes speed, battery status, and other data. There's also a USB port so you can charge your smartphone as you ride.
The scooter folds up so you can pull it behind you like carry-on luggage, making it easy to take it onto a subway or bus or leave it by your desk at work. It also features a third configuration between open and folded where it helps you haul stuff around.
And then there's the Super Battery. It's a smart battery with its own microchip and operating system. The scooter is sold with a battery module--basically, a stand you can place the Immotor's battery in, in order to charge laptops and other devices.
With exploding batteries headlining the news, Immotor has placed several layers of safety in its super battery. For starters, it's encased in metal to keep out dust and water. The cells within the battery are separated by an added layer for additional shock resistance and each cell has a metal tab attached to it. Should a cell start to overheat the tab melts, disconnecting it from the rest of the battery and preventing heat from reaching the electronics. Immotor says its battery is safe enough to take on an airplane.
Immotor Go is currently taking pre-orders that includes a $400 discount. The final price is $1,100.
Ojo Electric
Ojo Commuter Scooters will appeal to those who want to ride in comfort and style. It features an attractive wing-shaped body, a digital dashboard, front and rear suspension, disk brakes, all-weather tires, and even Bluetooth speakers integrated into the steering column. It somewhat resembles a Vespa, with the important distinction that you can ride it in the bike lane.
The Ojo scooter reaches a top speed of 20 mph. It has three speed settings: Eco mode for beginners, Touring mode for maximizing distance and Sport mode for performance. A thumb throttle controls the speed. The seat is removable if you want to ride standing, or in the company's words, go "street surfing." Hey, they're based in Santa Monica.
Its 48 volt lithium-ion battery has a maximum range of 25 miles. One nice feature is that you don't have to carry a special battery cradle to charge it. A retractable plug is built into the front of the steering column, enabling you to charge this scooter anywhere you find a 110V outlet. Charge time takes six to eight hours.
The Ojo scooter boasts LED lights and a horn and one of the nicest digital dashboards I've seen. Additional amenities are also available, including mirrors and a basket. In terms of safety, there is a 4-LED headlight and a rear LED brake light bar. It also has a horn. There's a motion-activated alarm as well. Should someone try to move it, they'll be greeted by a high-pitched alarm.
The Ojo scooter comes in an assortment of bright colors and retails for $2,000.
Modobag
Modobag bills itself as the "world's first motorized, rideable luggage." And while that's a mouthful, it's accurate. You literally ride it. "It's the carry-on that carries you," Modobag's makers say, a bit less mouthfully. So you don't have to walk from security to your gate at the airport, which I suspect will be the number one use for Modobag.
The Modobag carries up to 260 pounds and it travels six miles (based on a 180 pound rider). The bag itself isn't especially light (it weighs a hefty 20 pounds), so you'll probably want to use two hands when hefting it into the storage compartment above your seat.
Charging only takes an hour, which does matter if you only have a short wait time at the airport terminal. It even features two USB ports so you can charge your devices. Its speed varies from 5 mph (indoors) to 8 mph (outdoors). And yes, the lithium batteries are airline compliant.
Driving Modobag around left me uncertain. I couldn't divine if this product will be hit or flop. Honestly, I felt vulnerable sitting so low to the ground with so many people walking around me, and I wondered how folks would react in a crowded airport as I raced around them. Or worse, if I honked at them to get out of my &@#@* way. Being small and obnoxious is never a good thing.
Nonetheless, Modobag has enjoyed a highly successful campaign on Indiegogo, raising over $480,000. So clearly there's interest in a bag that doubles as personal transport. The Modobag is available for pre-order for $1,100. It ships in May.