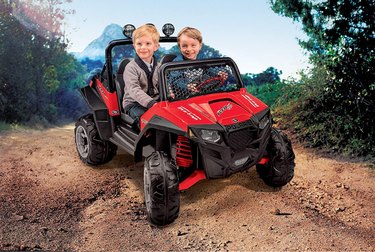 Electric cars are the coolest. There's no way around it. If you want to surprise your kid this summer with a ride-on car and gain hero status, check out Peg Perego's Polaris Ride-On.
The Polaris RZR 900 is way more fun to drive than the typical jeep or other basic ride-on vehicles you see around the neighborhood, because it's a Polaris, and Polaris' are just cool.
I was able to test out a car with my 5 and 3-year-old, and the general consensus is that they'd like to drive it around the neighborhood forever. The car is designed for kids ages 3 to 8 with a weight limit of 130 pounds, so they both fit comfortably with plenty of room to grow.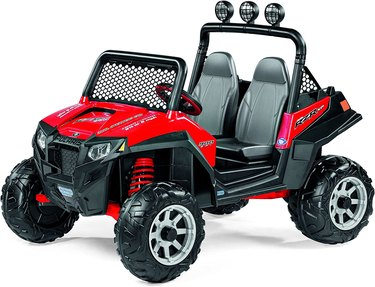 There are two speed options: 2 1/4 to 5 mph. The gear shifter has a top speed lockout, so you can make sure that your child has some miles under their belt (or at least a few blocks) before they tackle the higher speed. The vehicle has a 12-volt rechargeable battery that takes a few hours to charge and can last up to three or so hours. You might want to buy a second battery so there's always one ready to go.
It's fun that the design of the car is true to a real Polaris. My kids love that it's a two-seater, and they're very into the cup holders in the back and that there's room to hold all of their treasures they find along the way.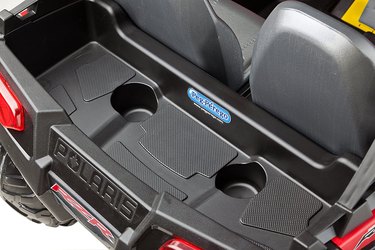 The Polaris doesn't come with seatbelts, but you can buy them separately. You can also buy a compatible adventure trailer to haul all the important things that kids collect or need for a couple hours of fun.
While there's a lot to love about the car, there are a couple of things I wish were different. The pretend speedometer doesn't latch into the car — it just sits in a hole and constantly falls out while driving, which is annoying. The car is heavy (over 60 pounds), and it's kind of a pain to put together, but none of these features are deal breakers.