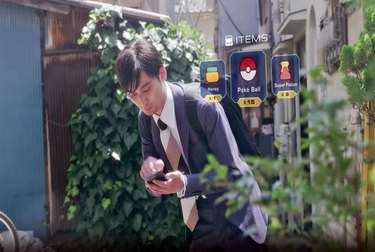 Pokémon Go—which challenges players in the real world to chase Pokémon (the Japanese name for the elusive creatures) in a virtual one—is a smash hit. The location-based smartphone game from Nintendo is reportedly raking in $1 million a day. Players wander malls, streets, even riverbeds, sometimes forgetting where they are. But when you play, you aren't actually in the game's virtual world, so you need to prepare accordingly. Here we offer a helpful list of Pokémon Go survival gear to make your chase a successful one. Happy hunting!
BauBax Wireless Charging Apparel
The two-headed Pokémon Go monster you've been stalking is just around the corner. You've almost got him. But just then, your smartphone runs out of juice. Seattle-based startup BauBax offers an innovative solution to this frustrating problem: wireless charging apparel, with a charger is stitched into the clothes. The big advantage: Even if you forget your backup charger at home, you're still carrying one. The main innovation here is how small BauBax has made the charging pad: It's 1.95mm thick—only slightly thicker than a quarter. Place your smartphone in your pocket, and it charges wirelessly. BauBax is in the middle of a Kickstarter campaign to raise funds. The company is $100,000 away from its goal, after raising an astonishing $9 million in its last campaign. BauBax will offer several choices of jackets and pants for men and women, and all of the styles look pretty great. Plus, if you submit your order now, you'll enjoy a significant discount (approximately one-third off) the future retail price of the clothing, which will range from $150 to $250, depending on the item. The only drawback: Clothing is slated to ship in January 2017. But at least you'll be ready when Pokémon Go 2.0 hits the app stores.
EcoReco M5 Air E-Scooter
Looking for a technological edge when gathering Pokémon? Then look no further than the electricity-powered EcoReco M5 Air E-Scooter. This baby can scoot 10 to 20 miles on a single charge. You'll sweep up all the Pokémon in your neighborhood before your nearest competitor—yeah, okay, so it's your kid sister—even rolls out of bed. The EcoReco M5 Air comes with a 36V, 8 Ah LFP rechargeable battery, a 250-watt motor, and a top speed of 20 mph. We've been on this thing—and it flies. It's foldable, and at 35 pounds it's light enough to carry for short distances. An LED dashboard displays tracks speed, battery status, odometer, trip distance, and total charge cycles. Bring the charger along if you run out of juice. Then station yourself at a cafe while your M5 Air recharges. Enjoy a cup of joe and envious glances before continuing on your Pokémon hunt. You'll get an 80 percent charge in just about 2 hours. The EcoReco M5 Air sells for $1,199.
Fitbit
If an EcoReco is too rich for your blood, consider grabbing a Fitbit instead. The Surge, Fitbit's most expensive offering, is priced at $250; and the Charge HR, the company's most popular model, costs only $150. How will a Fitbit help you catch Pokémon? Here's the rationale. You'll be doing a lot of walking, which means you'll be exercising without knowing it. So why not feel good about beating your fitness goals even as you have fun? And as a further benefit, the next time one of your not-with-it family members ridicules you for playing a video game, you can check your Fitbit and say, "Hey, I just walked 15 times my daily goal. And my abs are tight! Thank you Pokémon Go."
MyHydrate
When you're hunting for mystical creatures, you sometimes forget the basics—like drinking enough water. An advanced water bottle like MyHydrate is the perfect solution for carrying the perfect solution: It keeps you hydrated on the go. This high-tech bottle will track your water intake and beep after an hour of inactivity to remind you to drink. An LED light on the top tracks your water intake. There are eight LEDs altogether, and each one corresponds to roughly 8 ounces of liquid. The bottle automatically resets every 24 hours. It's durable (so it will survive being dropped) and spill-proof (so it won't leak on your gadgets). And it comes with a hands-free clip. The last three features make it an ideal choice when you're chasing Pokémon. MyHydrate retails for $40.
BRAVEN BRV-BANK
The key to catching Pokémon is redundancy—not in your workplace, but in your power supplies. You can never have too much power. And of course, as noted above, the BauBax wearable charger won't be ready for use for another six months; so in the meantime you need quick access to power. The BRV-Bank from Braven is a solid, portable choice. Its 6000 mAh battery holds enough juice to charge your smartphone twice. And crucial to your Pokémon hunt, it's rugged. The exterior is IPX5 certified and resists splashing. It also features two USB ports and is Bluetooth-enabled. After downloading the associated app, you can monitor your battery and even find it if you misplace it: Press a button on the app, the BRV-Bank will emit a high-pitched signal. Another cool feature is the unit's detachable USB flashlight. If you ever get caught out at night during your Pokémon search, you can light your way home. The BRV-Bank retails for $100.