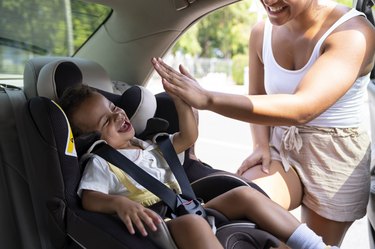 Uber announced a slew of new family-friendly features at its annual Go/Get product showcase event. Uber Car Seat is one of the new features that'll help make rides go a lot smoother and allow parents to travel without a car seat.
Uber Car Seat is partnering with Nuna, a company that makes premium car seats, to let parents and caregivers reserve a car with a car seat. The Nuna RAVA car seats provided are forward-facing for a child who is at least 2 years old, 22 pounds, or 31 inches tall. A child is too big for the provided car seat if they weigh more than 48 pounds or are taller than 52 inches.
Uber Car Seat vehicles are the same as UberX plus a $10 surcharge. The cars are currently equipped with one car seat per car. As of now, Uber Car Seat is only be available in New York City and Los Angeles, but more cities will be added.