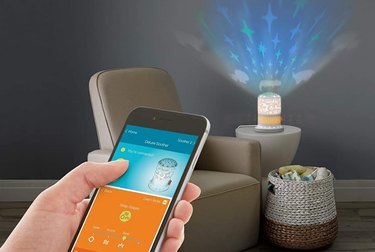 Babies are pretty terrible at sleeping. It's not their fault though, they're new to the world and still figuring out day vs night. Plus, they need to eat pretty much all the time, so there's that.
So, when they ​do​ finally have the chance to sleep, their sleep environment should be conducive to, well... sleep.
Fisher-Price's Smart Connect Deluxe Soother is a huge help in getting a baby fall asleep and stay asleep, according to parents. Part night light, part white noise machine, part connected app, this device lets you have complete control without even stepping foot in the nursery. Plus, it actually ​looks​ like something that belongs in a baby's room.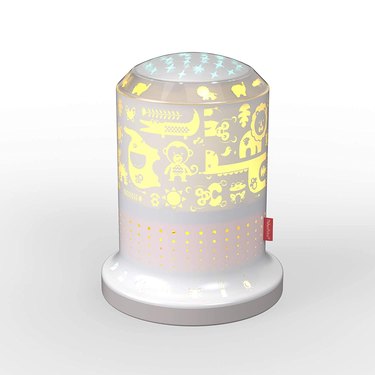 There are three sound options: soothing music, nature sounds, and white nose. Three lighting options include soft amber night light, starlight projection (with lots of colors to choose from), and soft amber animals.
Using the app, you can customize and control the lighting, sounds, and timer—so if you forget to turn them on, you can do it without going in the baby's room. A sleep stages tool helps you create a personalized bedtime routing using a smart device, which isn't included.
Here are some reviews from parents:
From an Amazon reviewer:"This product is fantastic to say the least. I have a 4 month old that we just put into her own room at night because she sleeps better in her crib. The options for all the colored lights are a nice touch. When she wakes in the night to be fed, i can turn the light up before I even get in her room. As I'm feeding her i play the sleep stages to get her to settle back down and by the time she's done eating I can lay her down with no fuss."
From an Amazon reviewer: "The app functions well and also offers music on the go - so awesome to play lullabies in the car when the baby gets restless, or at the doctor's office to settle your child. People will comment on the lullabies and how sweet and well behaved my infant is. I grin and say, yes, I think we can all prefer lullabies to screaming!"
From a Bed Bath & Beyond reviewer: "We received this when our LO was almost 8 months old and thought he may already have outgrown it. Not even a little bit. Naps and bed time have never been easier -- despite teething and being mid-leap. The projection calms and soothes him so much, as does the amber glow, and the sounds are so comforting and refreshingly different from the music with other mobiles/toys. (They nearly put me down!) Can't recommend this enough for the modern nursery!"