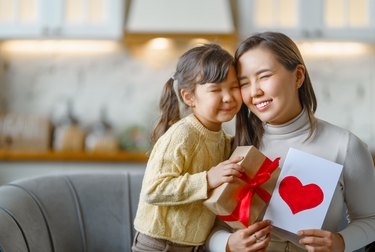 Mother's Day is May 14, which gives you the perfect amount of time to get the ball rolling on a gift. Sure, most moms would probably love breakfast in bed, a massage, a foot rub, and time away from the kids (absolutely speaking for myself here), but the way to her heart might also be giving her a thoughtful gift.
I rounded up some fun and unique gifts that'll last a lot longer than flowers — although those are nice, too. Check out the list below.
For the mom who can't live without her morning cup of coffee while traveling, this french press will make her life better and more caffeinated. It's the perfect size to throw in a carry-on, suitcase, or purse. The coffee and tea maker comes in six colors and can hold either 18 or 32 ounces.
Heirloom is a video book that features a 5-inch HD screen with a speaker wrapped inside the hardcover book. It can hold up to 10 minutes of personalized video with a variety of book cover options. It's a gift your kids will steal and claim as their own — you know, because screen.
Since moms are constantly making meals, snacks, and everything in between for their kids, they deserve a juicer that's effective easy to clean. The Tribest cold press juicer will cut, pull, and press juice to perfection. At 5.5 inches x 5.25 inches, it's compact and won't take up much space in the kitchen, plus it's great for travel.
Plenty of moms are still fighting with their kids or spouse over chargers (it's me, hi). Give this mom the pleasure of having her phone, Apple watch, and AirPods charging on a 3-in-1 charging device. The charger comes in six color options.
Everyone knows what the coffee drinking mom really wants — hot coffee whenever she wants it. The Ember Travel Mug delivers coffee at a controllable temperature that can stay hot all day long. The smart mug senses with it should enter sleep mode, which happens when it's empty or after two hours of inactivity. Drink it at home or take it on the go.
Whether you're buying for a coffee or tea drinker who enjoys frothed milk or for someone who wants a quick and mess-free way to mix protein drinks, the PowerLix Milk Frother gets the job done. The battery-powered device comes in several color options along with its own stand.
No matter how many times you wash your kids' hands, they still end up sticky and all over your devices. This iRoller will clean your laptop, tablet, and smartphone and rid them of smudges and fingerprints with a spray and a few quick rolls.
This portable projector is great for movie night on the go, in your child's bedroom, in the backyard, or anywhere else. It's compatible with iOS, Android, and Windows 10.
If she's a fan of roasting marshmallows and general fun, this adorable tabletop fire pit will bring her joy. Not only does the portable fire pit add ambience to an outdoor space, it's can bring the literal heat and help make yummy s'mores.
Help her ditch her mom bag for this chic wallet. It's functional, stylish, and it comes with an optional wrist strap so it can be easily carried for a night out. Choose from 14 colors.