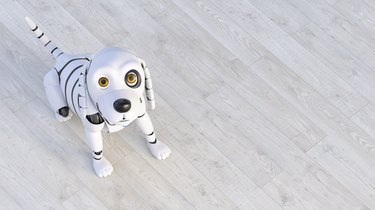 So now that tube tops, chokers, dad sneakers and scrunchies are officially back, you and your translucent fanny pack might just be feeling a little nostalgia for some of the tech from the first decade of the aughts, too. Just before the original Wii and the first-generation iPhone were about to rock your world forever, Hasbro and Sega jived onto the scene with the I-Dog in 2005. This robotic pupper works with your MP3 player – or anything else that plays music, really – and dances to the beat. The I-Dog legacy ended about five years after its initial release and included a few key variations along the way (not to mention the wackier Hasbro I-Turtle; instructions for that one are pretty similar), but there's no better time than now to get your almost-vintage groove on.
I-Dog Usage Basics
2005's original I-Dog set the standard for how all I-Dog iterations operate. If you know how to use the basic I-Dog, you'll be pretty comfy using whatever variants Hasbro throws at you, from the smaller I-Dog Pup to the colorful prints of 2007's I-Dog Amp'd line.
To get your I-Dog moving, first turn it on by holding down the nose button for about two to five seconds, depending on the model. The doggo connects to musical devices with an included auxiliary cable (aka a headphone cable). Just plug one end of this connector cord into your MP3 player or any other music-playing device with an "aux" input, start playing some tunes and the I-Dog's ears will perk up as its LED lights flash and it periodically dances to the rhythm.
Alternatively, simply boot the I-Dog up and set it next to an active speaker. The device's built-in mic will pick up on music and react. When the dance party's over, hold down the nose button once again to power off the I-Dog.
I-Dog Feeding, Moods and Dancing
When you first turn your I-Dog on, it's in "puppy mode," which basically means it's a blank slate. Over time, your electronic pet establishes a musical personality based on the music you "feed" it. After a period of regular music intake, if you double-tap the nose button, the I-Dog will light up and play a few riffs that show off its distinct, learned persona. Different colors indicate different musical personalities:
Red: Rock and punk
Green: Dance and techno
Yellow: Hip-hop and rap
Orange: Pop
In addition to feeding your I-Dog music, you can also "pet" it by waving your hand over the top of its head or "scratch" it by tapping the nose button once. The I-Dog responds with a light show of LED patterns.
The I-Dog's Many Moods
The multicolored LED lights on the I-Dog's face are more than just an arbitrary light show. Here's what some color and shape combos mean:
Middle LED blinks blue: The I-Dog is hungry – feed it music.
Middle LED blinks pink or purple: The I-Dog wants attention – pet or scratch it.
Three LED lights blinking in a connected line: The I-Dog is ecstatic because it's well-fed and well-loved.
Four LED lights in a "Y" shape blinking with three unconnected lights: The I-Dog is excited about its musical food or the attention you're giving it.
Circle of LED lights blinking with a single light in the middle: You're feeding your I-Dog just enough music and attention, so it's happy.
Single LED light traveling in a circle: Everything's normal in your I-Dog's world.
Blinking row of three straight and three diagonal LED lights: The I-Dog is bored and needs food or attention.
One or two LED lights in a blinking pattern: The I-Dog is sad, and will start to cry until you feed it music or give it attention.
Green or yellow LED lights: Your I-Dog is sick – feed it music and give it lots of pets and scratches right away!
More I-Dog Tips and Troubleshooting
The I-Dog Pup features an additional switch to change between the regular "Play" mode and "try-me" mode, which plays a demo of the toy's functions. To quiet your original I-Dog or I-Dog Amp'd down for five minutes, press its tail switch in. Don't do this too often, though, or your music-loving friend will get angry. After one hour of inactivity, the I-Dog will shut down automatically.
The I-Dog Amp'd sports a listening mode, piping music from the auxiliary cable source through a stereo speaker on its back. This model's two-direction tail switch serves as the volume control for this mode.
When you need to revitalize your canine glow pet, the battery compartment can be found on the pooch's underside. For all models, you'll use a Phillips screwdriver to access the compartment. The original I-Dog takes two AA batteries, while the Pup needs three AAAs and the Amp'd needs three AAs. If your I-Dog freezes up (stage fright, maybe?), use a pen or paper clip to press the reset button, located on the underside of the I-Dog and I-Dog Pup or on the back of the head of the I-Dog Amp'd.