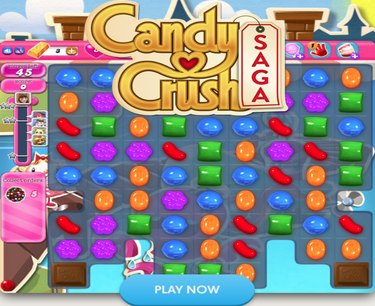 I have a confession to make. I'm addicted to Candy Crush. There, I said it. I've been playing the game since it first came out back in 2012. That's eight years of Candy Crush dedication.
But I have another confession to make. I'm addicted to lots of games, not just Candy Crush. And I'm not ashamed anymore. (I'm a little ashamed, but I'm learning how to manage my time better, so it's fine, OK? Don't send help. Maybe send help.)
While Candy Crush is the OG game of the match three puzzle genre, there are so many other games like it. And some of the other games are just as fun, if not more fun.
It's not that I'm trying to drag you into the darkness (or light, depending on how you view it), but just in case you're looking for a new mindless game to play on your phone or tablet, I've put together five of the most addicting Candy Crush-like games for iOS and Android. You're welcome and sorry.
Cookie Jam
It may seem like your standard match three puzzle game, but it has you completing a dessert recipe in each level. By matching shapes and colors, you'll collect the required ingredients to make your finished dish.
So not only will you be completely absorbed in Cookie Jam, you'll want to simultaneously eat dessert.
Candy Crush Soda Saga
From the makers of Candy Crush, Candy Crush Soda Saga is all about soda. There are new settings, new tiles to match, different game board designs, and new game types.
It basically just switches the scenery of Candy Crush up a bit, so by the end of it, you'll be wanting to drink soda instead of eat candy.
Bejeweled Blitz
Test your speed and your ability to match colors and shapes with Bejeweled Blitz. You only have a minute to get the highest score you possibly can. Connect four or more gems together to receive bonus gems. Who doesn't love bonus gems?
If you aren't into fast-paced games, you can changed the mode around to classic mode, which focuses on moves instead of speed.
Dots: A Game About Connecting
If you have kids or were once a kid, you've probably played Dots before — but on paper. This is a game of the same vain, except electronic. It's minimalistic and simple, but definitely not easy. At least, not once you get to higher levels (humble brag).
You'll be able to choose between a timed mode, moves mode, and endless mode. In order to remove the dots from the screen, you need to connect a minimum of two dots of the same color. But the more dots you connect, the higher the score (and the fancier the sound effects).
Panda Pop
Help mama panda rescue her babies from the evil baboon by strategically burst-matching bubbles. Work your way through increasingly challenging puzzles and use bubble shooter power ups to help you beat the levels.
If you end up playing Panda Pop, please note how attached you get to the babies and the heartbreak you feel every time you can't save them. Or is that just me?