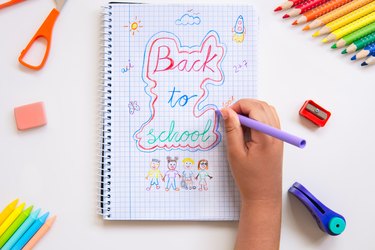 It's somehow already time to buy your kids their back to school supplies. (Didn't' summer ‌just‌ begin?) If you don't have the time or desire to go to your local store to buy supplies, you can get everything your kids need on Amazon.
I've rounded up Amazon Prime's most affordable and most essential back to school supplies, from backpacks to markers to pencil cases to water bottles. Check out the list below so you can check them off your shopping list.
This Box of 30 Classic #2 Pencils
All students need a trusty #2 pencil. Since kids are constantly losing pencils, you might as well go with this box of 30 pencils.
This Pack Of Multicolored Highlighters
These very affordable Sharpie highlighters come in four colors, and according to the company, they don't smear.
This Bento Box Lunch Box That Comes In Lots Of Designs
Send your child to school with a lunch box they'll love. This Bentgo bento box has five compartments and comes in 30 fun designs.
This Leak Proof Water Bottle For Kids
Finally, an inexpensive water bottle with a straw that's actually leakproof. The water bottle comes in eight colors and has a wrist strap.
This Cute Backpack For Under $10
For under $10, this school backpack is a great option. It has plenty of room for folders, pencil cases, sweatshirts, water bottles and more. The backpack comes in six designs.
This School Supply Kit Full Of Essentials
This school supply bundle comes with markers, crayons, colored pencils, #2 pencils, pencil top erasers and grips, ruler, wide ruled spiral notebook, wide ruled composition book, two-pocket folder, and a pencil box.
This Large Capacity Pencil Case
Perfect for elementary school, middle school, or high school students, this large capacity pencil case can hold pens, pencils, stationery, scissors, a calculator, and more. It comes in 20 color options.
This 3-Pack Of Soft Grip Scissors
These scissors are designed for kids ages 4 and up who have a bit of experience with cutting. Their pointed tip makes them sharper than preschool scissors.
These Classic Pink Erasers
Just in case your child loses one eraser, this 3-pack of pink wedge erasers has two replacements ready to go.
This 4-Pack Of Transparent Pencil Sharpeners
This four-pack of pencil sharpeners is great to keep one at home, one at school or in a backpack, and the other two for backup.