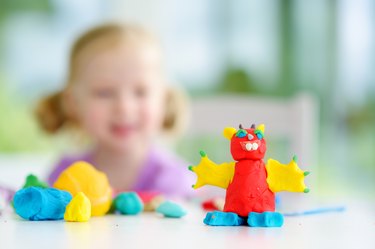 Play-Doh has been sparking imagination since the 1950s, and there doesn't seem to be an end in sight. Hasbro continues to come out with new colors, new play sets, and new tools to give kids (and their grown ups) hours of open-ended play.
If you're looking to gift your kids with Play-Doh for the holidays, or just as an no-reason-at-all gift, now is a great time to stock up, because Amazon is offering some deep discounts for the company's Big Deal Day 2023.
Scroll on for Amazon's best deals happening today:
This Play-Doh Kit For Beginners
This Play-Doh starter kit makes a great gift for kids who don't already own millions of Play-Doh tools. It has all the basic tools needed to make fun creations, as well as four small cans of Play-Doh.
‌Deal price:‌ $7.99
‌Regular price:‌ $11.99
These Fun-Size Cans of Doh
You can't go wrong with this 65-pack of fun-size cans, jam-packed with so many fun colors, including several sparkly options. The sculpting opportunities are endless. It's great to have so many colors around the house, but this set also works great as party favors.
‌Deal price:‌ $14.99
‌Regular price:‌ $21.99
This Snack Cart For Endless Fun
One of the hottest toys of the holiday season last year was this Play-Doh Sweet Snacks cart, and it's shaping up to be quite the hit again this year. Kids can play pretend with cookies, cupcakes, and other desserts, then create play money to pay for the treats. The truck comes with 26 tools and 12 colors of Play-Doh.
‌Deal price:‌ $66.49
‌Regular price:‌ $94.99
This Barber Shop For Budding Stylists
Kids can grow and style silly Play-Doh hair with this barber shop playset. The set comes with a toy electric razor that makes a real buzzing sound, kid-friendly scissors to cut the pretend hair, a brush, and five Play-Doh colors.
‌Deal price:‌ $13.99
‌Regular price:‌ $16.99
This Storage Table That'll Keep The Mess Organized
If your kids love playing with Play-Doh, but you don't love the mess it makes, go for this play 'n store table. The table gives your kids somewhere to play while holding over 25 accessories and eight Play-Doh colors.
‌Deal price:‌ $31.49
‌Regular price:‌ $44.99
This Mixer Playset For Your Tiny Bakers
This mixer playset comes with eight shapes of Play-Doh cookies, cakes, and cupcakes for some fun and delicious creations. The set comes with five cans and four baking tools.
‌Deal price:‌ $9.89
‌Regular price:‌ $16.99