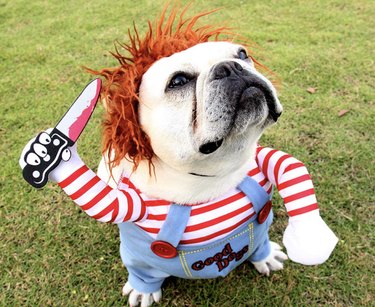 There are endless reasons to get a dog or cat — the biggest being to provide a safe and loving home. But perhaps one of the most entertaining reasons is to dress them up in the most ridiculously adorable costumes for Halloween.
Sure, you can find plenty of cute pet costumes at pet stores, Target, and Amazon, but if you're looking for something more unique, try Etsy. Etsy has a dedicated section for pet costumes, and it's filled with handmade outfits and accessories across many genres.
You can find cosplay costumes that embody the true Halloween spirit like Dracula, the devil, and Chucky, but you can also find sweet costumes like a sombrero set, a lion's mane, and a snail.
Scroll on for the most ahhhh-dorable pet costumes on Etsy.
This Perfect Lion's Mane Costume
As a cousin of the lion, it only makes sense to put your cat in a lion's mane costume for Halloween. The mane doesn't discriminate — your dog can also wear it.
‌Available sizes: Small — Large‌
The Cutest Crab Snood There Ever Was
Your dog can wear this insanely cute wool crab snood for Halloween, then continue to wear it in winter to keep their ears warm. That is, if they'll allow it.
‌Available sizes: X-Small — Large‌
The World's Tiniest Sombrero Set
Whether your dog or cat rocks this sombrero set for Halloween, Cinco De Mayo, or just an average Tuesday, you won't be disappointed. An adjustable elastic piece keeps the hat in place. You can buy the sombrero and scarf together or individually.
‌Available sizes: Small — Medium‌
This Royal Highness Costume
Let's be real, your cat is the real monarch in your house, and you are just a mere commoner. This royalty cape is great for cats or small dogs.
‌Available sizes: Small, Large‌
This Adorably Terrifying Chucky
Who knew Chucky could be so adorable? This knife-wielding Child's Play costume will be a hit on Halloween. It comes with the outfit and wig.
‌Available sizes: Small — X-Large‌
This Vampire King Costume
This vampire costume comes in one size, which is ideal for cats and small dogs. It's a great way to get a costume on your pet without it feeling too constricting for them.
‌Available sizes: One size‌
This Simple "Boo" Bandana
If your pet absolutely refuses to wear a costume but is cool with a casual bandana, try this spooky "Boo" bandana. The best part is, they won't even remember they have it on.
‌Available sizes: Small — X-Large‌