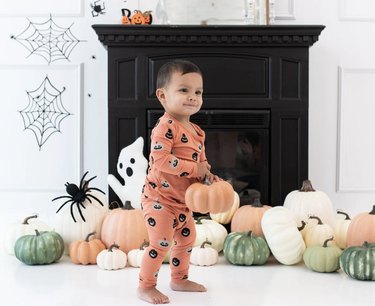 Halloween is arguably the best time of year. It's filled with spooky celebrations, fun costumes, delicious Halloween-themed treats, haunted houses, and candy. So much candy. But one often overlooked perk of the holiday is the adorable Halloween pajamas that your kids will want to wear all season long (and beyond).
To kick off Halloween season, I rounded up my favorite Halloween pajamas for kids that I think you and your kiddos will love, including matching pajamas sets for the whole family.
These Organic PJs Featuring Yogi Pumpkins
It doesn't get much cuter than these Honest Baby Clothing pumpkin pajamas. The organic PJs come in footed and two-piece sets. They're available in four different Halloween designs, including candy corn, bats, and haunted house, and you can pair them with matching pajamas for the whole family.
‌‌Sizes:‌ Newborn — 7 | ‌Colors:‌ 5‌
These Super Soft Bamboo Pumpkin Pajamas
If soft and cozy is what you're going for (in addition to Halloween-y, of course), check out this long sleeve pajama set from Kyte Baby. Made from bamboo, these pajamas are buttery soft, hypoallergenic, and three degrees cooler than cotton.
‌‌Sizes:‌ 18-24 Months — 10 | ‌Colors‌:‌ 65
This Halloween Toddler Pajama Set
Made with Peruvian Pima Cotton, these soft Halloween pajamas will keep your kiddo warm and cozy while bringing the festive vibes. They have a luxurious feel and a price point that coincides.
‌‌Sizes:‌ 2 — 6 | ‌Colors‌: 1‌
These Glow-In-The-Dark Skeleton Pajamas
The only thing cooler than skeleton PJs is glow-in-the-dark skeleton PJs. These pajamas are soft, stretchy, and on the heavier side, making them a great option for cooler weather.
‌‌Sizes:‌ 18 Months — 18 | ‌Colors:‌ 28‌
These Matching Halloween Family Pajamas
Available in sizes for the whole family — even pets, these bat pajamas from Burt's Bees are just as cozy as they are cute. Made from organic cotton, the pajamas run a bit tight, so you might want to size up for your kids.
‌‌Sizes:‌ Newborn — XX-Large | ‌Colors: ‌31‌
These Glow-In-The-Dark Mummy Pajamas
‌‌Sizes:‌ 0-3 Months — 3X-Large | ‌Colors: ‌2‌